KUCHING, 18 May 2023: Festival-goers to the iconic Rainforest World Music Festival (RWMF) 2023 can look forward to grooving along to funky and upbeat African rhythms from two of its international acts – Safi Theatre Group from Tanzania and Afriquoi from the UK.
Safi Theatre is a dance-based performance group that showcases improvised traditional ngoma music (drumming and dance), blending their captivating and lively shows with acrobatics to create an exciting mix of traditional Tanzanian music and artistic creativity. Musically, the group plays various danceable and energetic tunes by using traditional percussive instruments as well as other contemporary ones, including the Snare drum, Conga flutes and Toms.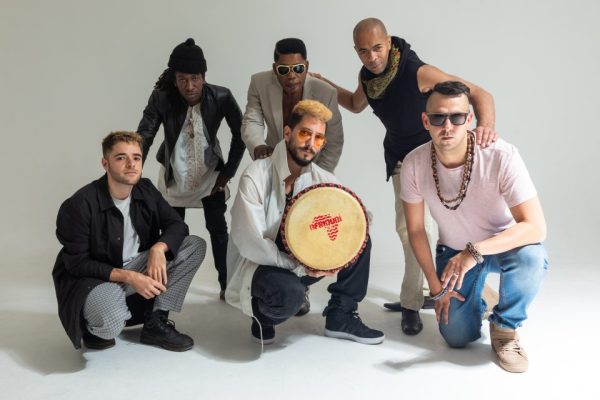 Led by Ramadhani Maneno, the members also comprise young musicians and dancers between the ages of 10 to 20, whose performances are inspired by the richness of Tanzanian traditions and cultural diversity, which they believe are not being shared enough. According to Maneno, having young performers is an element of sustainability, as it is the best way to keep their heritage and traditions alive for future generations.
The troupe is proud to share their Tanzanian culture and tradition with the world over the years, having performed at various international events such as the annual Festival Rudolstadt in Germany and Saruj Kund Mela in India. Safi Theatre believes that this cultural exchange, including musical instruments and songs, could facilitate future collaborations.
Afriquoi is a UK-based sensation that fuses African rhythms with live electronic beats, creating an incomparable, energetic, and mesmerising sound. Their live performances combine Gambian kora, Congolese guitar, and Mandinka percussion styles with electronic music drawing on house, garage, disco, soul, and jungle to create something unique.
The band – comprising of Jally Kebba Susso playing the Kora; Fiston Lusambo on guitar, Andre Espeut as the lead vocalist, Nico Bentley raving on the electronics, keyboard, bass and André Marmot on percussions – showcases music that carries a message of togetherness, health, healing and happiness and is known for their ability to get the crowd on their feet and dance. Formed in 2011 out of London's cultural melting pot, they have established a global cult fanbase, loved by fans both of African and electronic music. Their Afro house classic 'Kudaushe' has become an established favourite in clubs all over the world, and they have toured all over Europe, with huge crowds singing along to their songs on major stages at Glastonbury, WOMAD, Dimensions, Fusion, Boomtown, Shambala, Bestival, Secret Garden Party and the London 2012 Olympics.
Being their first time in Malaysia, Afriquoi is thrilled to be invited to perform at the Rainforest World Music Festival 2023. They are excited to be in a new environment and indulge themselves in the extraordinary musical experience that awaits in Sarawak. Their message to RWMF2023 attendees? "We cannot wait to meet you, get ready and make sure to dance along!"
Rainforest World Music Festival 2023
Musicians and fans of world music all over the globe are invited to experience different sounds from across the world at the iconic Rainforest World Music Festival (RWMF) 2023, which is making its full physical comeback from 23rd to 25th June 2023 at the Sarawak Cultural Village (SCV).
With the theme 'Reflections', RWMF 2023 allows festival-goers to reflect on their connection with nature and embrace diverse musical styles with underlying values for a deeper appreciation of the world. This year marks RWMF's 26th edition, and the festival continues to advocate sustainable practices and greening initiatives, making Sarawak a leading ecotourism destination for future generations of music lovers.
The festival features 199 musicians from 12 countries from four continents. Festival-goers can look forward to performances by Grammy Award winner Gipsy Kings featuring Tonino Baliardo from France of such hits as 'Djobi Djoba' and 'Bamboleo', Big Mountain from Jamaica and the USA best known for their hit song 'Baby I Love Your Way', Safi Theatre from Tanzania, Rastak from Iran, Fasylive from the Maldives, Afriquoi from the United Kingdom, Chatusram from India, Rizal Hadi & Folk from Indonesia and Ethno Thai Fusion Sound Band from Thailand. The line-up will also include performers from Japan, Hong Kong and Singapore.
RWMF2023 will also highlight Malaysian local talents from East and West Malaysia, which include Zee Avi, Suk Bini, Aseana Percussion Unit, Nadir, Steve Thornton & Afroasia, Sada Borneo, Tuku Kame, Nading Rhapsody, Geng Wak Long, Buloh Bekocak, At Adau, Meruked, and Orang Orang Drum Theatre.
The 'Pre-sale' tickets are available on Klook ticketing platform across a range of categories: Adult 1-Day Pass Fri/Sun (MYR230), Adult 1-Day Pass Sat (RM260), Adult 2-Day Pass Fri + Sat / Sat + Sun (MYR440), Adult 3-Day Pass (MYR590), and Child 1-Day Pass Fri/Sat/Sun (MYR80) – under a limited-period offer.
More info on the musical line-up and ticketing can be found on the Rainforest World Music Festival's official website at www.rwmf.net.
(Source: Sarawak Tourist Board)