SINGAPORE, 11 January 2023: Pandaw is offering its loyalty programme members a special one-off repositioning cruise in October 2023 on the RV Kindat Pandaw.
The cruise explores river travel from West Bengal to Assam crossing the Sunderbans and Bangladesh.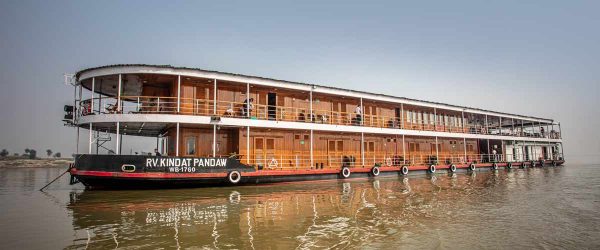 Pandaw, in an email post, said the members-only expedition offers an epic 21-night journey from Kolkata, sailing through the heart of Bangladesh and back into India's North-Eastern Assam region.
It promises to unlock a wealth of cultural, ecological and historical sites on daily excursions during this two-country adventure, including the Sundarbans, the world's largest mangrove forest, national parks, grand Mosques, and two nights in Dhaka with its exquisite colonial architecture.
Pandaw Cruises adds a postscript: "As always with our reconnaissance cruises, itineraries, timings and excursions are subject to change at short notice, and a sense of adventure is required for those eager to partake."
A Pandaw membership ID is required to book the cruise directly on the company's website or through a travel agent.
Prices for the 21-night trip start at USD10,350 per person.
A 21-night reconnaissance expedition on the Kindat Pandaw through India and Bangladesh, from Kolkata to Guwhati via Dhaka
The 18-cabin Kindat Pandaw will reposition from West Bengal to Assam. Departing from the former capital of Kolkata (Calcutta), the ship crosses Bangladesh in a two-country reconnaissance expedition that explores the Sunderbans, one of the most ecologically diverse regions on the planet and known for its swimming tigers. Here, the Ganges and Brahmaputra outflow into the Bay of Bengal and has 10,000 square miles of mangrove, the world's largest mangrove forest.
Visits will be made to national parks with trips by tender deep into the backwaters. The expedition will also explore the wealth of Islamic art and architecture in Bangladesh's delta towns and the rich traditions of weaving and other crafts in the riverine communities of this vast delta.
Dhaka, with its colonial buildings and excellent museums, will be a highlight. Then leaving the delta, the expedition will continue up the great Brahmaputra to re-enter India and continue through Assam to the city of Guwhati with its Hindu temples, the countryside around filled with tea gardens and plantation houses.
Expedition map