VIENTIANE, Laos 17 August 2023: Heritage Line's newest riverboat Anouvong completed a cruise trial on the Mekong River last week and is ready to embark on a three-day maiden river trip on 27 August.
The first trip will take invited media and VIPs along the upper Mekong River from Luang Prabang to Huay Xai in northern Laos, which shares the river border with Chiang Khong in Chiang Rai province, Thailand.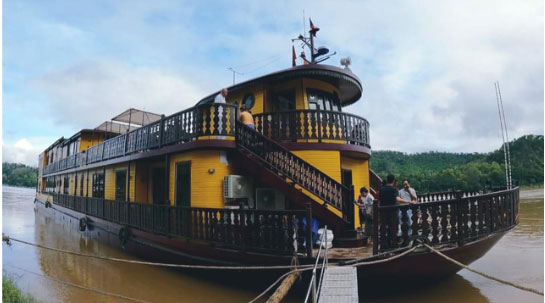 The introduction of the 10-cabin Anouvong on the Mekong River was delayed by almost three years due to the Covid-19 pandemic.
Once the season starts in October, the riverboat will offer three cruise itineraries:
Three-night cruise between the Thai-Lao border town of Huay Xai (or vice versa) in the northwest of Laos to the UNESCO World Heritage Site of Luang Prabang.
Seven-night downstream cruise from Huay Xai ending in Vientiane, the capital of Laos.
Nine-night Upstream cruise from Vientiane to Huay Xai with a stop in Luang Prabang.