KUALA LUMPUR, 18 August 2023: The Malaysian Association of Tour and Travel Agents (MATTA) has renewed its collaboration with Malaysia Aviation Group, naming it the Official Airline Partner for the upcoming MATTA Fair, scheduled to take place from 1 to 3 September 2023 at the Malaysia International Trade and Exhibition Centre (MITEC).
The long-standing partnership with the airline group comprising Malaysia Airlines, Firefly, and MASwings, will elevate the MATTA Fair experience offering visitors unparalleled access to Malaysia's premier airlines, as well as other enticing offerings to complete the travel experience through MAG's range of products aimed at enhancing travellers' journey.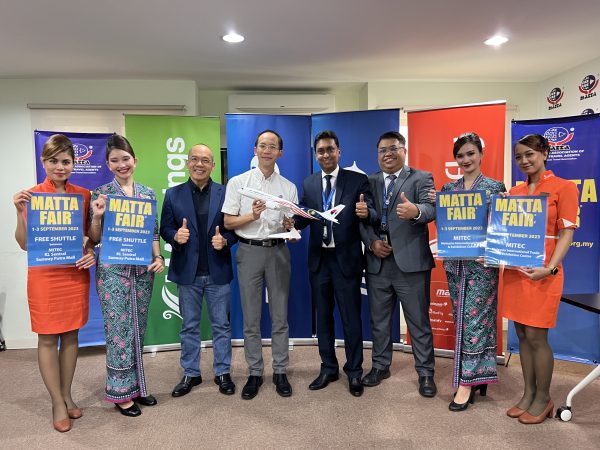 The dedicated Malaysia Aviation Group pavilion, strategically positioned at foyer Level 1, boasts a total space of 156 sqm, creating an inviting hub for visitors to explore and engage with the national airlines' activities.
"We are delighted to join forces again with Malaysia Aviation Group's airlines for the MATTA Fair. Their participation not only adds significant value to the fair but also underscores our commitment to meet the evolving demands of our valued consumers," said MATTA president Nigel Wong.
"As the national flag bearer, we are proud to take part in MATTA Fair once again, reinforcing our commitment in working hand in hand with our stakeholders to reinvigorate the tourism sector back to its glory days," said MAG chief commercial officer of airlines Dersenish Aresandiran.
The airlines will offer up to 40% off on fares to selected domestic and international destinations. This exclusive offer is valid for travel from 31 August to 9 September 2023, at the MATTA Fair and the airlines' online platforms, from 31 August 2023 to 31 March 2024. Members of Malaysia Airlines' travel and lifestyle loyalty programme, Enrich, will also earn 50% Bonus Enrich Points during this period.
The airlines will also offer 37 return tickets, including Business Class tickets to London and Sydney, through the MATTA Fair Buyers' Contest.
On top of the great discounts offered on fares, customers will also get to enjoy other deals beyond air travel, including discounts on holiday packages and travel experiences through MHholidays and Journify; ensuring customers have a fuss-free journey.
Admission to the fair is free. The show is open from 1000 to 2100 for three days, Friday to Sunday. MATTA provides a free shuttle service to MITEC from KL Sentral and Sunway Putra Mall.
Visit MATTA Fair's website and social media platforms on Facebook, X, and Instagram, or subscribe to the new Telegram channel @MATTA_Fair to obtain the most recent information updates.