DANANG, 3 March 2023: Danang's tourism recovery campaign will light up the sky as the city revives the Danang International Fireworks Festival 2023 (DIFF 2023) following a three-year hiatus.
Scheduled for 3 June to 8 July, Danang City People's Committee joins Sun Group to invite seven international teams to compete with the host team representing Vietnam and Danang. The seven international teams hail from England, Italy, Poland, France, Australia, Canada, and Finland.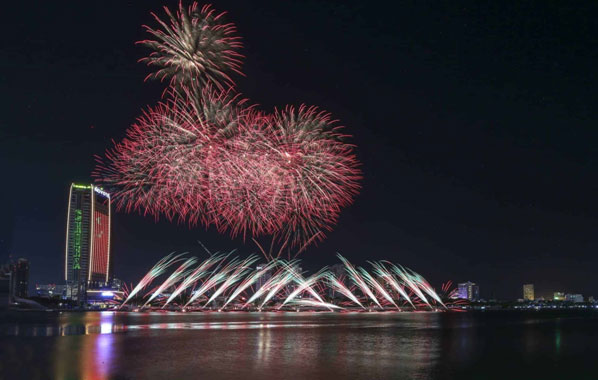 Now in its 11th year, the festival adopts the theme "World without distance". In local promotions, DIFF 2023 presents the campaign tagline "WOW Danang", derived from the tourism promotion "WOW Vietnam" initiated by Sun Group nationwide.
The fireworks displays will get underway on a floating stage on the Han River as the eight teams take turns presenting a 20-minute fireworks spectacular.
Sun Group commented on the return of DIFF after a three-year pause saying the festival would be an immediate success acting as a "magnet" to attract visitors worldwide to Danang. It's just one of many festivals planned this year that should crown Danang as Asia's leading festival destination.
(Source TITC and Sun Group)