KATHMANDU, 3 March 2023: The 4th Himalayan Travel Mart will be hosted in Kathmandu, Nepal, from 6 to 9 June 2023, following a three-year pause, the Pacific Asia Travel Association (PATA) Nepal Chapter reports this week
The event is organised in cooperation with the Ministry of Culture Tourism Civil Aviation (MoCTCA), Nepal Tourism Board (NTB), Nepal Airlines, PATA International, and other leading tourism-related.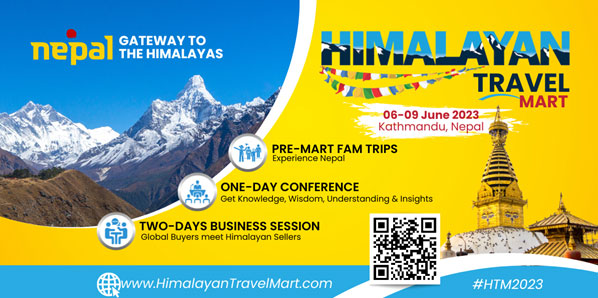 The first three editions of HTM, held in 2017, 2018, and 2019, attracted global tourism stakeholders and tour operators. It positions Nepal as the gateway to the Himalayas. However, due to the global Covid-19 pandemic, the organisers paused the show for three years.
PATA Nepal Chapter chairman Bibhuti Chand Thakur in a press statement issued earlier in the week, emphasised the event's role in revitalising tourism businesses, boosting travel confidence and supporting Nepal's post-pandemic recovery initiatives.
He added: "The Covid-19 pandemic devastated the travel and tourism industry, and Nepal suffered massive losses. However, with the much-awaited re-opening of world tourism, we are confident that HTM will represent a significant opportunity to support Nepal's post-pandemic tourism recovery initiatives and the entire Himalayan region at large."
Nepal's Minister for Culture, Tourism, and Civil Aviation Sudan Kirati has extended a welcome message to delegates from around the world, inviting them to join the HTM 2023 to support Nepal's post-pandemic tourism recovery initiatives.
He expressed, "We are striding forwards rebuilding the tourism sector, which has been greatly disrupted and has compelled us to embrace changes brought forth by the pandemic and other crises. By sharing our inspiring stories of resilience and ensuring our best efforts on safety concerns as well as strengthening the tourism offerings to win our guests' confidence, trust and loyalty, we are now gearing up to rebuild the future of tourism."
Himalayan Travel Mart (HTM) is a business-to-business (B2B) mart that attracts global travel buyers, travel content providers resident in the Himalayan region and neighbours, travel bloggers, influencers and thought leaders.
Global travel buyers from Europe, North America, South America, Australia, New Zealand, Russia and CIS, Asia, and Gulf countries attend the show.
Himalayan travel content providers from Nepal, India, China (Tibet Autonomous Region), Bhutan, Afghanistan, Pakistan and Myanmar rent booth space where they engage in pre-matched appointments with buyers.