HANOI, 3 March 2023: Vietnam recorded 933,000 international visitors in February, an increase of 7.1% compared with the previous month, the country's Tourism Information Technology Centre reported on Wednesday.
Quoting GSO data for January to February 2023, TITC noted the country attracted 1.8 million visitor arrivals during the first two months of the year.
The General Statistics Office of Vietnam (GSO) serves under the Ministry of Planning and Investment, independent of the tourism ministry and promotional agencies.
Figure 1. International visitors by month in 2022 and 2023 (thousand arrivals)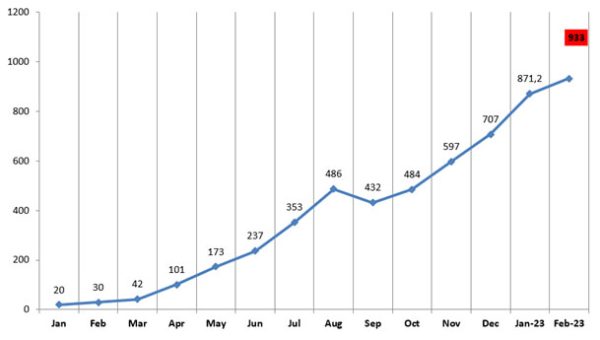 South Korea remained the largest source market in the first two months, with 560,000 visitor arrivals, followed by the US (148,000). Thailand ranked third with 97,000 arrivals.
In the top 10 markets, Northeast Asia led with South Korea (560,000), Taiwan (90,000), Japan (71,000) and China (71,000). Southeast Asia led with Thailand (97,000); Malaysia (72,000), and Cambodia (70,000).
Figure 2. Top source markets in the first two months of 2023 (thousand arrivals)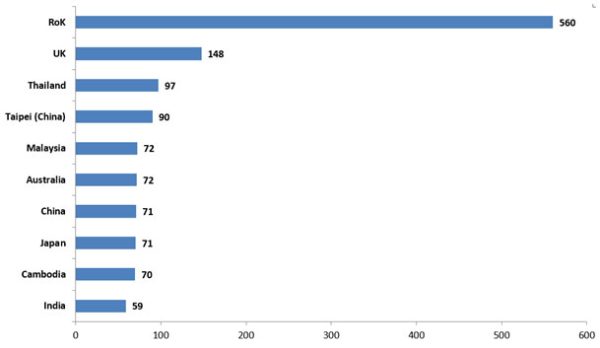 2023: February arrivals
In February, there was significant growth in arrivals from markets in Northeast Asia. The notable standouts were South Korea (+16.4% compared to January 2023) and Taiwan (+87.7%).
The Chinese market reached 55,000 arrivals, 40,000 more than the previous month (+246.6%). Arrivals from Laos at 14.400 doubled when compared to the previous month. However, some other markets in Asia recorded much slower growth rates: Japan (+6.4%), and Cambodia (+5.1%).
European markets continued to maintain positive increases, such as France (+15.3%), England (+5.2%) and Germany (+2.9%).
Figure 3. Increase/decrease of some markets in the first two months of 2023 compared to the same period in 2019 (%)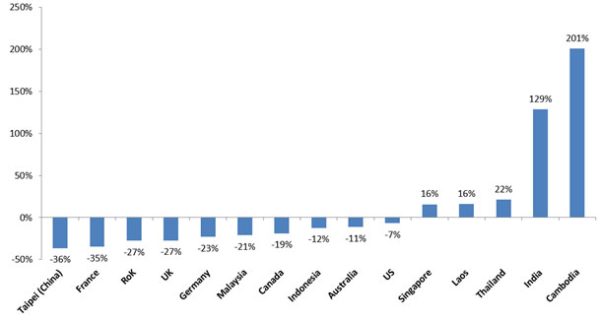 2023: Arrivals January and February
For the first two months of 2023, visitor arrivals from Cambodia increased by 201% compared to the same period in 2019 (pre-Covid-19). Visits from India increased 129%, Thailand +22%, Singapore +16% and Laos +16%.
The markets delivering visits on par or close to 2019 levels included the US (-7%), Australia (-11%), and Indonesia (-12%). Markets demonstrating a slower recovery included Germany (-23%), Malaysia (-21%), England (-27%), Korea (-27%), and France (-35%).
(Source: Tourism Information Technology Centre; GSO data)