DUBAI, UAE, 3 February 2023: Arabian Adventures, one of the UAE's leading destination management companies offering tour safaris, is relaunching an enhanced edition of its Jeep Adventure Safari.
The revamped itinerary includes additional stops for residents and tourists to take in the best of the country's surrounding desert landscape and its attractions in a single day.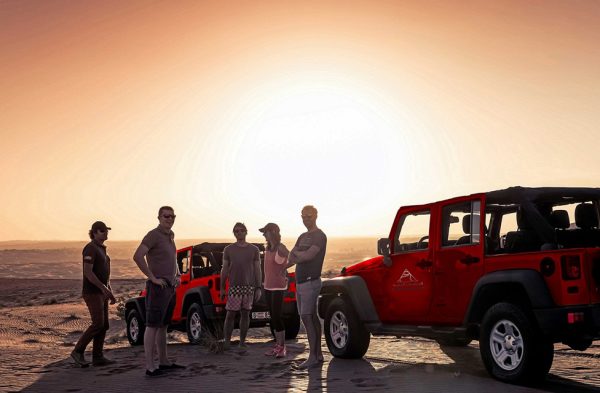 Arabian Adventures' itinerary covers six key locations to experience Jeep safari, with optional hiking. An expert safari guide provides transportation and local knowledge throughout the tour, which visits Buhais Geology Park, Camel Rock, 'Valley of the Caves' at Al Faya Mountain, Mleiha Archaeological Centre, Shawka Pools, and Wadi Al Helo.
Jeep Adventure Safari Itinerary 2023
1. Buhais Geology Park
At the foot of Jebel Buhais sits a dramatic new interpretation of a site of geological significance for the UAE. Buhais Geology Park, located on an ancient seabed in the Sharjah desert, consists of a series of interactive exhibits within a visitor centre designed by London-based Hopkins Architects, which reflects the sea urchin fossils found in abundance in the area. Experience these first-hand within the centre and on an outdoor trail to spot fossils and rocks more than 93 million years old alongside ancient burial sites from the Stone, Bronze and Iron Ages.
2. Camel Rock
To undercover another side of the fascinating UAE desert, travel to the Mleiha Archaeological Site. Here, visible from over 25km away, Fossil Rock – comprised of fossils millions of years in age – towers in the distance. Travel off-road for a 'dune drive' across red sands to find the iconic Camel Rock. This unique rock formation rising up from the sand dunes is shaped like a camel resting. Backed by the impressive Al Faya Mountain range, this is a scenic spot popular with photography enthusiasts.
3. 'Valley of the Caves' at Al Faya Mountain
Explore the vast Al Faya Mountain range of the Mleiha Archaeological Site. Jebel Al Faya, shaped like a dragon's back, is an impressive mountain stretching along the Al Faya desert. At its North-Eastern point, Arabian Adventures' guides take visitors to visit the 'Valley of the Caves'. Here they can marvel at the impressive limestone mountain landscape or take a footpath on a hike through Neolithic caves, offering a glimpse into prehistoric times.
4. Mleiha Archaeological Centre
To understand more about the locations, travellers stop by the Mleiha Archaeological Centre for interactive exhibits and ancient artefacts showcased evidence of life in the Sharjah desert several hundred thousand years ago, some of the oldest proof of early human presence in the country.
5. Wadi Shawka
Popular with off-road and hiking enthusiasts, nestled in the Hajar Mountains of Ras Al Khaimah, is Wadi Shawka, comprising the Shawka Pools and Shawka Dam. A true hidden gem of the UAE, a short (15-minute) hike from where the Arabian Adventures team can leave their 4×4 and go on a picturesque trail to the Shawka Pools. Here they will spot local wildlife, including the eye-catching blue-headed agama, on the way to a secluded, tranquil oasis at the foot of rugged mountains.
6. Wadi Al Helo
Known for its abundance of underground water, which first attracted settlers to the area, Wadi Al Helo – or 'sweet valley' – is home to a significant archaeological site for Sharjah and the UAE. Another off-the-beaten-track location, Arabian Adventures guides direct travellers to explore its restored Islamic watchtower and evidence of 19th-century homes on to its popular hiking trails. An optional walk to the top of a hill offers panoramic views of the Hajar Mountains from an old fort. From here, spot endangered birds, reptiles and other animals which have made this protected area home.
Arabian Adventures' enhanced Jeep Adventure Safari itinerary for 2023 is now available to book. Visit www.arabian-adventures.com.