BANGKOK, 21 September 2023: Pacific Asia Travel Association's chair, Peter Semone, welcomed the new PATA CEO, Noor Ahmad Hamid, earlier this week outside the association's new corporate office in Bangkok.
In his Facebook post, Semone commented: "Yesterday (Tuesday), I had the honour of welcoming PATA's new CEO and introducing him to our secretariat staff. Noor Ahmad Hamid will assume his post on 1 October. I am very excited to collaborate with him to build PATA."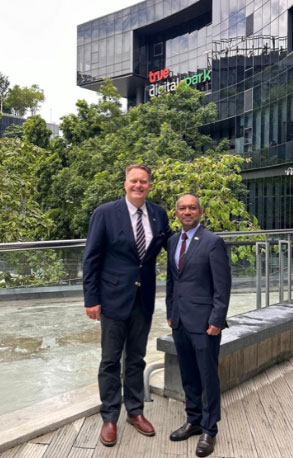 PATA moves into its new office at True Digital Park in downtown Bangkok on 1 November. It will end a long stint when the global association had no permanent office it could call home since the early waves of Covid-19 infections made the association's expensive office suite redundant.
PATA has been without a CEO since February 2023, when Liz Ortiguera and the association parted company. Ortiguera moved on to assume the role of managing director of Asia Pacific for the World Travel & Tourism Council while PATA dithered over finding a replacement.
PATA's chair, Peter Semone, continues in his elected post until at least May or June 2024 and could run for another two years if he gains enough support from the membership.
His Facebook post welcoming the new CEO on the steps of the new permanent office draws a line under a rocky disruptive period for the association as it continues to restructure and recreate an environment for meaningful engagement with its members.
In a comment to TTRW, Semone said the "priority is to get the PATA business and operational model running smoothly, effectively and efficiently."
The chair reels off a list of priorities assigned to the new CEO that identifies the urgent need to "re-engineer association events, complete the migration to digitalisation, refine membership engagement, an organisational reset and improving the association's voice and branding."
The urgency remains that it is now a time for action rather than words. A veteran tourism executive, the 60-year Malaysian Amhad Hamid, said he will not conduct interviews until next month. Still, more to point, the list of priorities hasn't changed for incoming PATA CEOs since it moved its HQ office from San Francisco to Bangkok in 1998. So, a raincheck on interviews would be just fine until the CEO can share some good old-fashioned progress that until now has evaded the association. At the time, the move to Asia was widely applauded as a strategy to take advantage of the emerging Asian Century by embedding PATA in the centre of the action. However, a reality check suggests the association has struggled to refine membership engagement and achieve relevance in the digital era beyond hosting a string of webinars by instant experts.
The new CEO will be tasked with putting back the shine on PATA's endeavours that are looking tired. He will need to deliver inspiration to make the association relevant to tourism enterprises in the Asia Pacific and worth the annual membership fees. That's the bottom line. Even those who sing the praises of PATA are often not paid-up members. They sneak in through a network of local PATA chapters. There is a glaring lack of clarity on the role of chapters that often leaves companies inadvertently paying fees to both HQ and chapter. The issue is swept under the carpet, and for some powerful chapters, that is the perfect solution for their egos and commercial agendas.
But the new CEO ticks off all the boxes and has a proven track record. Born in Perak, Malaysia, Noor graduated with a diploma in Tourism Administration from the MARA Technological University (UiTM), Malaysia. In 1984, he joined the Malaysia Tourism Promotion Board (now Tourism Malaysia) and served there for more than 16 years in the Public Relations, Marketing, Domestic Promotion and Convention departments. He was also based in its Los Angeles, USA, office for four years.
After a brief stint at an events management company specialising in international sporting events, Noor joined a Malaysian government-affiliated company focussing on hospitality and tourism investment.
In 2009, Noor joined the International Congress and Convention Association (ICCA) as the Regional Director of Asia Pacific. He served for 11 years, gaining enormous experience in the nuances of not-for-profit association management. During his tenure, membership in Asia Pacific grew substantially to become the largest regional bloc within ICCA.
In 2019, he was appointed COO of the Malaysia Convention and Exhibition Bureau (MyCEB) and played a key role in the post-Covid recovery of Malaysia's business events industry.
In 2022, he was inducted into the Events Industry Council Hall of Leaders, the most prestigious award in the global business events industry, and the only Asian recipient alongside distinguished professionals from America and Europe. In 2018, he received the China MICE Leaders Award from Meetings and Conventions China for contributing to the Asia Pacific region.
PATA's new office is located at True Digital Park, 101/1 Khwaeng Bang Chak, Khet Phra Khanong, Krung Thep Maha Nakhon 10260. (Close to Punnawithi BTS station.)