BANGKOK, 16 January 2023: Reuniting with friends and family continued to be the dominant reason for travel in 2023, according to Agoda's latest Travel Trends survey.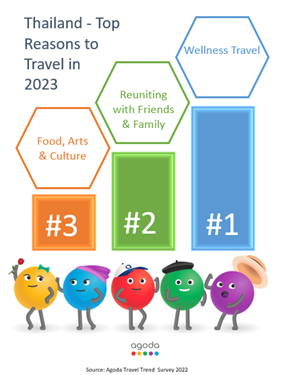 The survey asked travellers to share their top travel goals for the new year, and reuniting with loved ones, wellness and food, arts & culture took the top three places, followed by adventure (4th) and celebrating a milestone (5th).
Boosting physical and mental health (wellness travel) was the top driver for Thai travellers, followed by reuniting with family and friends and, in third place, food, art and culture.
Taiwan (33%), Australia (31%) and the US (25%) are where travellers will most likely plan a holiday reunion with family or friends. Still, travellers from several other countries have different motivations for embarking on a trip.
In South Korea and Singapore, for example, it is recharging mentally and physically that tops the list, contributing to the number two spot for wellness in the 'reasons to travel' ranking of Agoda's Travel Trend survey.
Among people from Japan (44%), Taiwan (24%) and Vietnam (23%), the biggest travel appetite is for re-discovering food, arts & culture. In the Philippines, only 11% are looking to travel for food, arts & culture, while 30% are searching for an adventure. Adventure travel also ranks highest among travellers from Indonesia (23%).
METHODOLOGY
Agoda survey was conducted in partnership with YouGov, polling over 10,000 travellers from across Australia, Singapore, Malaysia, Indonesia, Thailand, India, Philippines, Japan, Vietnam, Taiwan, South Korea, USA. This survey was conducted from 8 to 16 July 2022. All respondents were aged 18 and above.