KUCHING 13 January 2023: 'Sarawak A Journey Awaits' Business Networking Session (B2B) was the first B2B event of the new year organised by Sarawak Tourism Board (STB) with 18 agents from MATTA Perak Chapter and two representatives from Firefly together with Sarawak industry partners.
This year's B2B first-ever session coincided with the MATTA Perak Chapter's Familiarisation Trip to Kuching from 8 to 10 January 2023 that shone the spotlight on Sarawak's unique products, including the biggest museum in Malaysia – the Borneo Cultures Museum, Sarawak River Cruise trip, Semadang Kayaking, trip to Bau for Paku Maze Garden and to the charming town of Siniawan.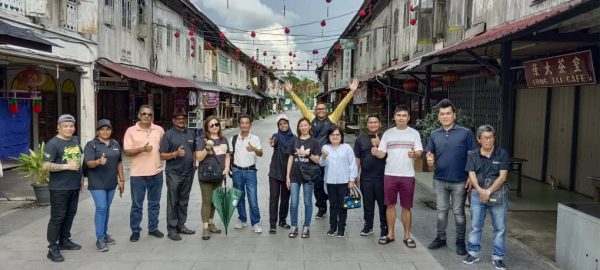 STB Deputy CEO Suriya Charles Buas said: "The business networking session today represented an opportunity to come together and exchange ideas on how to promote Sarawak as a unique eco-tourism destination to neighbouring states in West Malaysia. With the tourism sector's recovery underway, STB will focus on conversion and growth from the domestic market."
Domestic visitor arrivals to Sarawak ranked first on the list, with more than 1 million arrivals recorded during 2022. This marked a significant 662.03% growth over 2021, launching promotions to reach the 2023 target of 3 million arrivals.
Sarawak offers a wide variety of attractions for West Malaysian visitors, even more so now with the surge of demand for eco-tourism products following the pandemic. Sarawak has significant potential to offer green travel content to the market focusing on priceless flora and fauna endemic to Borneo, majestic waterfalls, captivating caves and mouth-watering food.
The five pillars of Sarawak's tourism – Culture, Adventure, Nature, Food and Festivals (CANFF) continue to be the main draw for Sarawak. The diversity in ethnicities and culture in Sarawak resulted in a palate of local delicacies merged with international flavours, producing unique food that can only be found in Sarawak. Kuching was also the first city in Malaysia to be named the 'Creative City of Gastronomy' by UNESCO.
Collaborations between Kuching, Sarawak and Ipoh, Perak, should increase Sarawak's visibility and product awareness for travel partners in Perak, helping them to stay connected with the latest content and offerings to "Come back Stronger" and move beyond the pandemic.
For more information visit, www.sarawaktourism.com.
(Your Stories: Sarawak Tourism Board)