VIENTIANE, Laos, 17 January 2023: Lao Airlines has filed a request with China's aviation authorities to fly to five cities starting in March.
Currently, it serves the Vientiane – Kunming route three times weekly. It hopes to add three weekly flights between Vientiane and Guangzhou, two weekly flights between Vientiane and Shanghai, and one weekly flight between Vientiane and Chengdu, possibly as early as March this year. The other two routes are from Vientiane to Changzhou and Hangzhou both with one flight per week.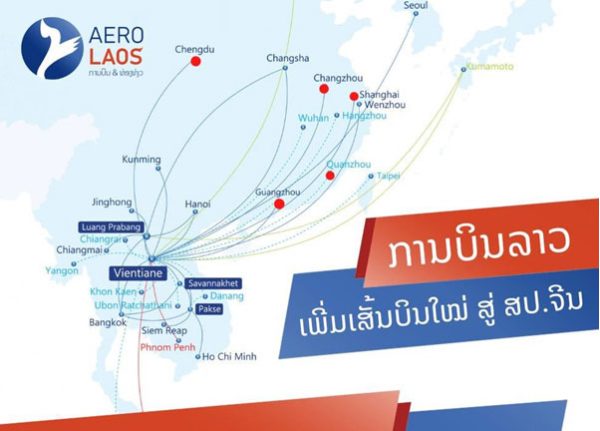 The news was first reported by the Laotian Times earlier this week, quoting a statement by the airline's deputy director, Saleum Tayalath.
Since China withdrew travel restrictions and airline caps on 8 January, advanced bookings for the Kunming flights have improved substantially, which should see the airline increase frequencies to daily as early as March this year.
All eyes are on the Chinese New Year holiday season, and if the week-long travel peak meets expectations, the airline is expected to speed up applications to resume flights to key cities in China.
The airline's current winter schedule indicates there are services scheduled from Luang Prabang to Chengdu, Changsha, and Kunming in China.
AeroLaos, an aviation news channel also claimed AirAsia would resume flights from Kuala Lumpur in Malaysia to Vientiane by the end of March 2023, with flights planned for Tuesday, Thursday, and Friday.
Flight details and fares have yet to be finalised, and AirAsia has not officially announced the service. The one-way fare will be around USD55
Currently, 12 foreign airlines are flying to Laos from seven countries.
(Source: AeroLaos and Laotian Times)