BANGKOK, 7 November 2023: Skål International Bangkok has been recognised as the "Best Hotel & Tourism Networking Group 2023" at the 8th annual Hospitality Awards presented by LUXlife Magazine.
"We are thrilled to recognise Skål International Bangkok for their exceptional contributions to fostering connections within the hotel and tourism sector," stated LUXlife Magazine award coordinator Kaven Cooper.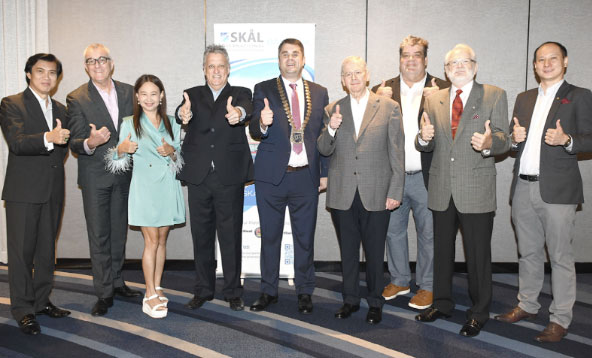 Skål International Bangkok president James Thurlby commented: "Receiving this accolade is a testament to our unwavering commitment to creating a vibrant community where professionals can collaborate and thrive. We are honoured to be acknowledged for our efforts."
Skål is a professional organisation of tourism leaders worldwide promoting global tourism and friendship and has approximately 15,000 members in 400 Clubs in 80 countries.
The photo shows Skål International Bangkok's executive committee members (from left).
Pichai Visutriratana, Director of Events.
John Neutze, Treasurer.
Kanokros Wongvekin,  Director of Public Relations.
Marvin Bemand, Vice President.
James Thurlby, President.
Michael Bamberg, Secretary.
Scott Smith, Young Skål Director.
Andrew Wood, 2nd Vice President.
Max Ma, Memberships Director.