BAHRAIN, 17 November 2023: SKÅL International Bahrain Club has confirmed the 53rd Asian Area Congress will be hosted from 23 to 26 May, 2024 at the Gulf Hotel Convention and Exhibitions Centre in Bahrain.
The five-star Gulf Hotel quotes USD330 per person in double or twin accommodation for congress delegates.
Early bird registration, including a special package rate, opens on 1 December and closes on 15 January 2024. There is a limited allocation for the competitive package rate of USD660. The package price includes meals and drinks during the congress. Once the special package rate allocation is full, delegates will pay USD700 to attend.
Package rates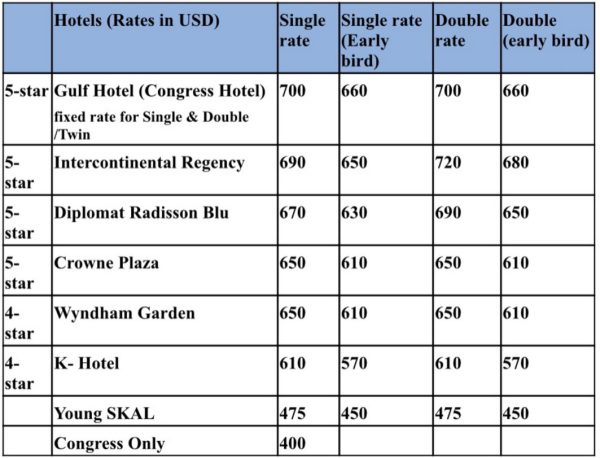 Rates above include breakfast and transfers.
Gulf Air offer
Gulf Air extends its support by offering a 22% discount in business class and a 20% discount in economy class for SAAC 2024 delegates.
The event calendar features a pre-congress-hosted dinner for the SKÅL ASIA Board of Officers, all-day registration on Friday, and a spectacular opening ceremony on Saturday. Delegates will have the chance to participate in business lunches, networking events, and complimentary tours showcasing the beauty of Bahrain.
The congress concludes with a gala dinner on Sunday, featuring awards and the official handover of the congress banner.
SKÅL International Bahrain Club president, Mohamed Buziz notes that the Bahrain Tourism Authority is "fully behind the congress and will offer free visas on arrival" to Skålleagues and guests. "I am counting on the support of Skål clubs worldwide," says Buzizi. Not to be missed, it will be a gathering like no other – extending hands of friendship and camaraderie to all."
Bahrain Tourism Authority
Explore more at www.btea.bh.
Gulf Air
Visit www.gulfair.com for more details.
(Source: Andrew Wood)