BANGKOK, 9 May 2023: Thai Vietjet has launched 'Sky ConX', a fly-through network that connects its passengers from and to various destinations via its Bangkok Suvarnabhumi base without multiple check-in procedures.
The Sky ConX offers the airline's Thailand domestic and international connections, with a convenient transfer at Bangkok Suvarnabhumi Airport, the main operating hub of the airline.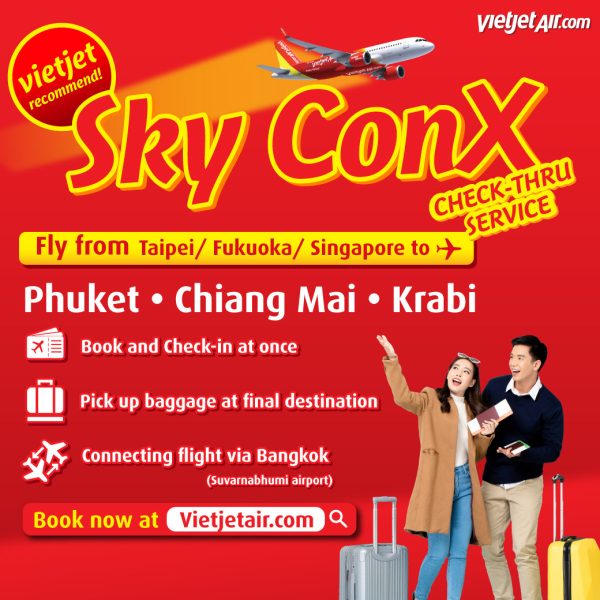 It ends the need to collect their baggage and recheck themselves for the onward flight while transferring at Suvarnabhumi Airport, making their journey seamless.
In the early stage of the introduction of Sky ConX, the airline offers seamless international connections from Phuket, Krabi, and Chiang Mai to Fukuoka, Taipei, and Singapore. In addition, the airline offers a domestic connection between Chiang Rai – Hat Yai/Phuket/Krabi/Surat Thani, Chiang Mai – Hat Yai/Krabi/Surat Thani, and Udon Thani – Hat Yai/Phuket/Krabi.
Passengers check in their bags once the first departure airport and are given two boarding passes. Once in Bangkok, there is no need to recheck.
Thai Vietjet will cooperate with the parent Vietjet Group to further provide connections from Thailand to international destinations, including Australia, Japan, and Korea using the same check-through service.
Flights with the Sky ConX service are available for booking at www.vietjetair.com, after selecting the inclusive origins and destinations, the flights available for the service will be suggested automatically.
When arriving at Suvarnabhumi Airport, passengers can follow the sign to their connecting flight and then proceed to the waiting room after passing through the ticket check and carry-on bag scan. Passengers must allow at least 20 minutes before departure at the gate, check for the gate number, and they will board the following flight without leaving the passenger area or rechecking their bags.