SINGAPORE, 8 May 2023: Korean Air achieved a revenue of KRW3.1959 trillion (USD2.4512 billion) in its first fiscal quarter, a 14% year-on-year increase following the steady recovery of travel demand and continued profitability of its cargo operations.
However, the rise in fuel prices and increased operating costs due to expanded aircraft operations has led the airline to record an operating profit of KRW415 billion (USD318.3 million), a 47% decrease year-on-year.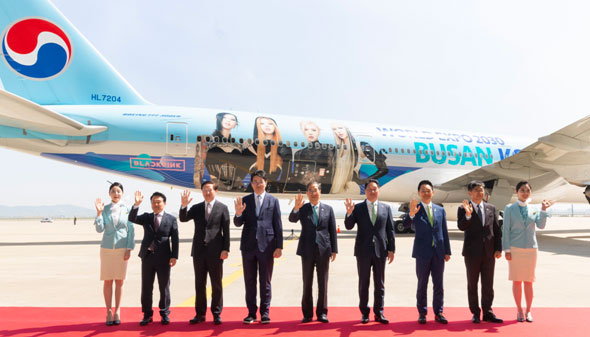 The airline's Q1 passenger business revenue rose 394% year-on-year to KRW1.7777 trillion. Backed by strong travel demand fueling the steady recovery in capacity and passengers, the airline's passenger business revenue has almost recovered to pre-Covid levels of Q1 2019.
Korean Air expects global passenger demand to rapidly recover in Q2, especially with the relaxation of travel restrictions worldwide. The airline will continue normalising its passenger business by increasing capacity and responding flexibly to demand.
Meanwhile, Korean Air hosted an event last week at the airline's hangar at Incheon International Airport to showcase a special livery supporting Korea's successful bid to host the World Expo 2030 in Busan.
"Hosting the Expo in Busan will be a great opportunity further to advocate our nation's presence on the global stage, and Korean Air is proud to play its role in the bid for the World Expo 2030 Busan," said, Chairman and CEO of Korean Air chair and CEO Walter Cho in his welcome address. "As a leader in global aviation, Korean Air will take advantage of its extensive network to support the bid."
To support the bid, the airline unveiled a special Boeing 777-300ER livery featuring BLACKPINK, a world-renowned K-pop group. Recognised globally, BLACKPINK is on a world tour to meet its 1.5 million global fans. In March, Korean Air signed a partnership agreement with YG Entertainment and became the official airline sponsor of BLACKPINK's world tour.
The aircraft displaying the special livery flew from Seoul Incheon to Paris and will make stops in multiple destinations served by the 777-300ER fleet on the airline's global network.