SINGAPORE, 9 May 2023: The world's most iconic luxury cruise brand celebrated a momentous construction milestone last week with the float out of Queen Anne at the Fincantieri Marghera shipyard in Venice, Italy.
The 249th ship to sail under the Cunard flag, Queen Anne officially touched water for the first time exactly 365 days before setting sail on her maiden voyage to Lisbon on 3 May 2024.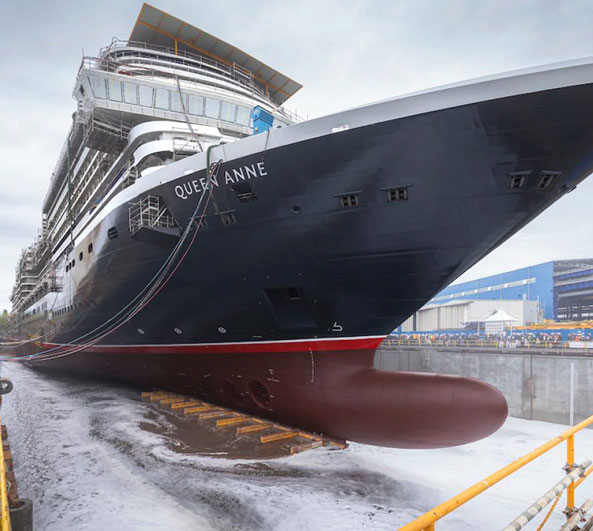 Carnival UK president, Sture Myrmell, said: "We are delighted to celebrate this important milestone in the construction of Queen Anne. The float-out ceremony marks the ship's transition from her building dock to where she truly belongs – in the water. Today marks a significant moment for Queen Anne as we recognise the dedication of the master shipbuilders at Fincantieri to build a ship that reinforces our position as a world-famous luxury brand."
The float out completes the first comprehensive construction phase for Queen Anne, which now transitions to focus on building the luxury ship's interiors.
Queen Anne
The 14-deck 3,000-guest Queen Anne will enter service in May 2024. It will make up the quartet for Cunard alongside Queen Mary 2, Queen Victoria, and Queen Elizabeth. It will be the first time since 1999 that Cunard will have four ships in simultaneous service.
(Source: Cunard)