MANILA, 11 May 2023: The Department of Tourism welcomes the return of charter flights between China and the Philippines, saying it sends a positive signal speeding up recovery from the country's top tourism supply market.
Before the Covid-19 lockdown in 2020, China was the Philippines' largest source market for tourist visits recording 1.7 million visitors from China in 2019.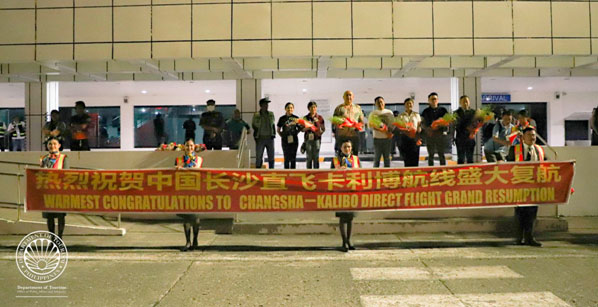 "We are very happy to welcome the resumption of charter flights from China to Kalibo. This only demonstrates that Boracay remains a popular destination for Chinese tourists," said DOT Secretary Christina Frasco in a statement Monday quoted by the Philippines News Agency.
On 18 April, 180 Chinese tourists on an OK Airlines charter flight from Changsha, China, landed at Kalibo airport for a holiday on Boracay Island. It was the first charter flight from China since the market reopened for international travel on 8 January 2023.
"Together with the local government and our very active private stakeholders, we shall aggressively promote sustainable and responsible tourism in Boracay so that more will come to enjoy its beauty in the long run," Frasco said.
In 2019, 434,175 Chinese visitors arrived at Boracay Island. They were the number one source of foreign visitors in Boracay, numbering 434,175 in 2019, before the global tourism lockdown in 2020.
The Philippines embassy in China resumed issuing visas to Chinese tour groups on 11 April.
"The DOT looks forward to equaling, if not surpassing, the Chinese visitors we received before the pandemic. We thank our partner agencies, especially the Department of Foreign Affairs, for heeding our appeal to resume the processing and issuance of Philippine visas to Chinese tour groups shortly after we underscored the necessity of regaining China as our largest source of inbound travellers," Secretary Frasco said.
"We look forward to other interventions, such as implementing an electronic visa system to facilitate the ease of entry into the country," the DOT Chief added.
She confirmed the DOT's intention to maintain strong ties with the Ministry of Culture and Tourism (MOCT) in China and ensure the Philippines is one of the 20 nations that are part of the pilot project to relaunch China's outbound tourism group tours to overseas destinations.
DOT has two offices in mainland China, one in Beijing and the other in Shanghai, promoting and marketing Philippine tourism to the Chinese market.
(Source: PNA, DOT)