SINGAPORE, 28 April 2023: Holland America Line will sail what is believed to be the first ever Grand Voyage "Pole-to-Pole" roundtrip from the US in 2025.
Details of the new 133-day sailing and a simultaneous 124-day 2025 Grand World Voyage were announced last week.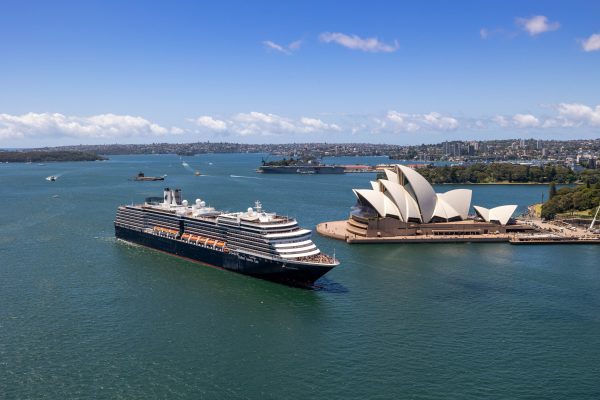 With the Grand Voyage: Pole-to-Pole and Grand World Voyage both departing in January 2025, this will be the first time Holland America Line offers two Grand Voyages of more than 120 days simultaneously.
The Grand Voyage: Pole-to-Pole aboard Volendam enables cruisers to visit five continents on a journey that travels south-to-north, while the Grand World Voyage aboard Zuiderdam covers six continents on an east-to-west route, each conveniently sailing roundtrip from a US homeport.
2025 Grand Voyage: Pole-to-Pole Highlights — Volendam
133 days. Departing 25 January 2025, roundtrip from Fort Lauderdale.
Follows a south-north-south route through the Panama Canal, down along the west coast of South America to Antarctica, and then up along Argentina and Brazil to the heart of the Amazon River. The ship then crosses the Atlantic Ocean to Africa, sails north to Europe and up to the North Cape before heading west across the northern Atlantic Ocean via Iceland and Greenland and finally down the eastern shores of North America.
Pole to Pole: Down south, Volendam spends four days of scenic cruising in Antarctica and up north, the ship crosses the Arctic Circle to the North Cape.
68 total ports across five continents and 28 countries.
8 overnight calls: Fuerte Amador, Panama; Callao (Lima), Peru; Buenos, Aires, Argentina; Rio de Janeiro, Brazil; Barcelona, Spain; Lisbon, Portugal; and Reykjavik, Iceland.
Memorable Moments: Panama Canal transit, Cape Horn, Antarctica, Falkland Islands, exploring the Amazon River, Strait of Gibraltar, Norwegian fjords, North Cape, Iceland and Greenland.
2025 Grand World Voyage Highlights — Zuiderdam
124 days. Departing 4 January 2025, roundtrip from Fort Lauderdale.
Transits the Panama Canal and makes way to Easter Island before crossing the South Pacific to Australia. Explores the Great Barrier Reef en route to Indonesia and Sri Lanka, then sails south to Cape Town, South Africa, by way of Seychelles, back up along the eastern coast of Africa, through the Suez Canal to Portugal before crossing the Atlantic Ocean.
46 total ports in 32 countries across six continents.
9 overnight calls: Callao (two nights); Easter Island; Papeete, Tahiti; Sydney, Australia; Singapore; Cape Town; Mombasa, Kenya; Safaga, Egypt; and Barcelona.
Seven late-night departures: Manta, Ecuador; Seychelles; Cape Town and Durban, South Africa; Aqaba, Jordan; Civitavecchia (Rome), Italy; and Gibraltar, UK.
Memorable Moments: Panama Canal transit, two nights at Callao allowing time to visit Machu Picchu, Easter Island, scenic cruising in the Great Barrier Reef, two full days in Cape Town, the opportunity to visit Petra from Jordan and experience Luxor from Safaga.
Early Booking Bonus
Guests who book the full 133-day Grand Voyage: Pole-to-Pole or 124-day Grand World Voyage by 3 June 2024, receive onboard spending credits and amenities valued at up to USD8,800 (pole-to-pole) or USD8,500 (Grand World Voyage), per person.
Since 20 April, travellers interested in the 2025 Grand Voyage: Pole-to-Pole or 2025 Grand World Voyage can call Holland America Line's Reservations Desk or a travel advisor to make a deposit Future Cruise Request. Guests with a deposited Future Cruise Request will get priority booking confirmation before the two voyages officially go on sale on 24 May 2023.