KUALA LUMPUR, 20 March 2023: Malaysia's tourism industry will play a big part in achieving a projected 4% GDP growth in 2023, according to a UOB Global Economics and Markets Research project highlighting the reopening of China's outbound travel as a key driver.
The pivotal role of tourism in achieving GDP growth was underscored by a Malaysian Association of Tour and Travel Agents (MATTA) symposium last week that saw industry professionals from both the public and private sectors discussing post-pandemic trends emerging within the tourism and travel space.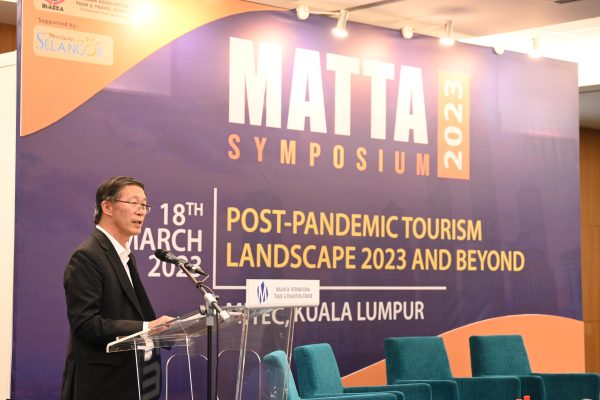 YB Tuan Hee Loy Sian, Selangor State Executive Councillor for Tourism, Environment, Geren Technology and Orang Asli Affairs, delivered the keynote address.
Panel speakers included Dato' Hj Zainuddin (Director General of Tourism Malaysia), Ahmad Luqman Mohd Azmi (CEO of Airlines Business, Malaysia Aviation Group), Ajay Prakash (President of the Travel Agents Federation of India, TAFI) and Hannah Pearson (Founder of Pear Anderson). Moderating the panel was Phillip See, Group Chief Sustainability Officer of Malaysia Aviation Group.
MATTA President Datuk Tan Kok Liang commented on the event's conclusions: "Malaysia's tourism industry will play a big part in the country achieving a projected 4% GDP growth in 2023, powered by the reopening of China's outbound travel.
"Positive trends in visitor numbers to ASEAN countries post-pandemic bodes well for the region's tourism industry in 2023. Countries like Thailand, Vietnam, and Indonesia stand to benefit the most from the predicted rise in tourism to the region."
He noted that ASEAN countries are already taking moves to strengthen intra-regional mobility following the lifting o Covid-19 travel restrictions.
"The development of digital technology and opening new markets will further disrupt the ASEAN travel space, making way for ever more creative and individualised vacation experiences. A greater number of tourists means more potential customers for local shops and restaurants – this is the main strength of tourism; its lead-on effects on the greater economy of a country or region."
Looking at the dynamic seascape of tourism for 2023 and beyond, he cautioned that Malaysia's tourism sector needs to take immediate steps to position itself and take advantage of the many new opportunities that will emerge.
"As for MATTA, we recently embarked on a mission to secure collaborative partnerships with our European counterparts, particularly with nations such as Switzerland, the Czech Republic, Poland, Estonia, and Finland.
"These collaborative partnerships will accelerate recovery. We are now working closely to actively cross-promote tourism between our countries to achieve meaningful short and long-term results.
"In addition, we renewed our memorandum of understanding last week with two of our key Indonesian counterparts, ASTINDO and ASITA. This is to show that we are not neglecting our close neighbours and that Indonesia is still Malaysia's primary source of tourist arrivals."