DUBAI, UAE, 17 March 2023: The distinctive livery of the world's largest international airline, Emirates, has been refreshed.
Emirates Airline president Sir Tim Clark said: "Aircraft livery is the most instantly recognisable brand real estate for any airline. It's a visual representation of our unique identity, something we wear proudly and display in all the cities we fly to worldwide. We're refreshing our livery to keep it modern without losing the key elements of our identity, such as the UAE flag on our tailfin and the Arabic calligraphy."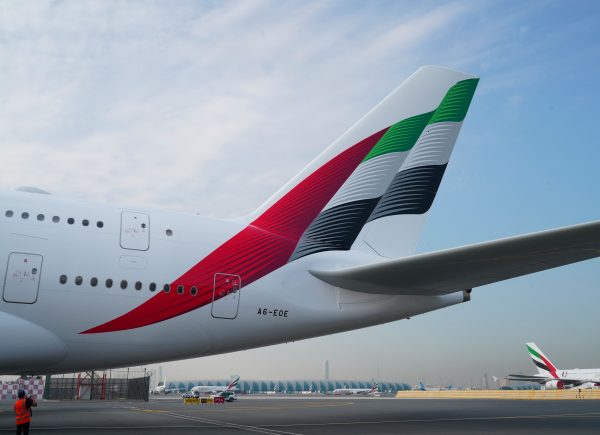 Eagle-eyed plane spotters and fans will immediately notice changes to the tailfin and wingtips. In this latest design, the UAE flag on the Emirates tailfin is much more dynamic and flowing with a 3D effect artwork. The wingtips have been painted red with the Emirates logo in Arabic calligraphy "popping" out in reverse white. Passengers onboard with a window view will see the UAE flag colours painted on the wingtips facing the fuselage.
The signature gold "Emirates" lettering across the main body in English and Arabic is also bolder and 32.5% larger. Emirates has retained its iconic red branding on the aircraft belly, which it introduced in 2005. The website URL "Emirates.com" has been dropped from the design.
This is the third iteration of Emirates' official aircraft brand colours. The original livery unveiled with the airline's launch in 1985 had its first refresh 14 years later, with the delivery of Emirates' first Boeing 777-300 at the 1999 Dubai Airshow.
The first aircraft to sport Emirates' newest livery is A6-EOE, an Airbus A380, which has rolled out of Emirates Engineering this week after its makeover. Its first deployment will be to Munich on 17 March as flight EK51.
The new livery will be gradually applied across the rest of the existing Emirates fleet, with 24 aircraft, including 17 Boeing 777s, expected to sport the refreshed livery by the end of 2023. From the first Airbus A350 entering the fleet in August 2024, all new Emirates aircraft will be delivered in this new livery.
Emirates' original livery in 1985 was designed by the UK design company Negus & Negus. All of the airline's subsequent aircraft colours were created by its in-house design team. Over the years, Emirates' numerous colourful and eye-catching aircraft liveries have included bespoke designs to drive sponsorship brand association and for special occasions such as the UAE's 50th Jubilee livery and Expo 2020 Dubai.
For more information, visit www.emirates.com.
(Your Stories: Emirates)