QUANG NAM, Vietnam, 17 October 2022: The annual Mekong Tourism Forum returned last week after a two-year Covid-19 inflicted pause.
Around 250 tourism experts gathered at the Hoiana Resort and Golf (Hoiana), Quang Nam Province, Vietnam, on 12 October to deliberate topics focusing on a forum theme of "Rebuild Tourism, Rebound with Resilience".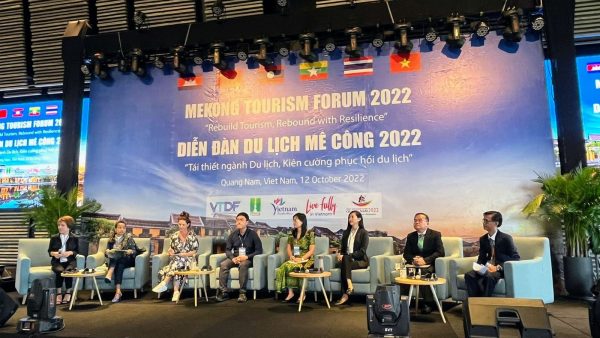 Vietnam's Ministry of Culture, Sports and Tourism hosted the event declaring it the region's first in-person, government-led event since the pandemic began, marking a significant milestone in tourism recovery in GMS member countries. The GMS countries comprise Cambodia, China, Laos, Myanmar, Thailand and Vietnam.
Delegate deliberations focused on the theme "Rebuild Tourism, Rebound with Resilience" the event brought together regional tourism leaders to rethink the rebuilding of GMS tourism by "adopting resilience-based approaches and effectively leveraging technology to create a more sustainable and inclusive sector."
Vietnam National Administration of Tourism, Ministry of Culture, Sports and Tourism of Vietnam chairman, Nguyen Trung Khanh, urged public and private stakeholders to "rethink and reshape the tourism industry towards a more sustainable, inclusive, and resilient future".
However, the day-long meetings also reflected concerns over the challenging economic environment created by high oil prices, inflation, and international supply chain disruptions threatening to slow tourism recovery across the six countries. Discussions on the forum's sidelines focused on pinpointing China's reopening schedule for outbound tours, with delegates hoping for an early announcement. It could lead to the return of package tours from Yunnan province to Laos on a limited scale using the new high-speed rail link later this year. But most tourism experts believe the return of Chinese tour groups is more likely during the Chinese New Year holiday season in late January 2023. Bringing back Chinese tourists to the GMS is seen as a life-saver that would help compensate for the slow return of European tourists.
Higher transport and accommodation costs also discourage tourism growth in the GMS. Airfares are likely to remain much higher than pre-Covid-19. Currently inter capital city fares in the region are double what travellers paid in 2019. This adds pressure to tourism businesses and traveller purchasing power, which could delay the sub-regional tourism recovery.
The VNAT chairman encouraged "tourism stakeholders of all sizes to leverage digital tools to support the sector's resilience and sustainability and boost the tourism industry's capacity through reskilling and upskilling programmes.
He commended the strong commitments of GMS NTOs to support the recovery of small to medium-sized tourism enterprises and called for equal opportunities for local employment.
Meanwhile, the MTCO office under the GMS Tourism Recovery Communication Plan announced it had completed various projects. They included a website remake, a monthly Mekong Tourism newsletter, and a new GMS Tourism Recovery Communication Toolkit. As for consumer promotions, it launched a #MekongPostcard campaign, which involved active participation from tourism stakeholders, influencers, and residents in the region.
Of the three "expert panels that took centre stage, the one discussing "New Ways of Connecting Sustainable Tourism Suppliers and Buyers" touched on a vital issue for GMS travel firms suffering Covid-19 fatigue. It discussed financing instruments, partnership structures, and mechanisms to attract investors and development partners to crisis-proof and create a resilient and sustainable future for travel enterprises.
Green agenda gained an airing at the final panel session tagged "Technology: Unlocking Green Tourism Opportunities." Panellists shared best practices on leveraging digital tools to maximise the positive impacts of tourism on the environment and local communities.