HONG KONG, 20 July 2022: Swan Hellenic's second ice-class expedition cruise ship, SH Vega, set sail on its maiden voyage to the Arctic following its naming ceremony at a Helsinki Shipyard last week.
Swan Hellenic CEO Andrea Zito commented: "I would like to congratulate everyone at Helsinki for their superb work in creating this wonderful new ship. We are delighted with the quality of their work, creating another unique presence on the waves. We look forward to taking her first guests to see what others don't, exploring the Arctic in exceptional comfort and style."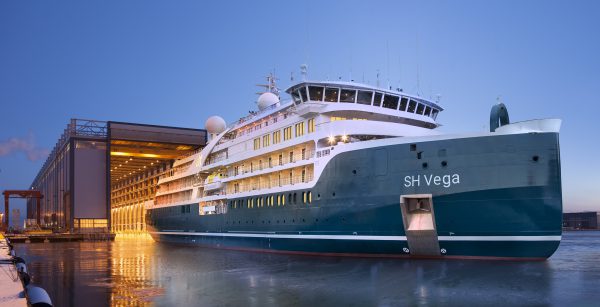 The ship is now embarking on its first 'cultural expedition' cruise of the Arctic, an 11-day exploration of the Svalbard Archipelago.
SH Vega is the second in a series of three high ice-class, cultural expedition cruise vessels made for premium discovery experiences worldwide, with a strong bias for extreme latitude areas. At 113 m, the 10,600-ton ship has been specially designed to explore the most inspiring and inaccessible places on the planet.
Providing five-star accommodation for 152 guests in 76 spacious staterooms and suites, SH Vega sails with an onboard team of 120 to provide the highest levels of personal service.
Following the naming ceremony, she set sail from Helsinki to Tromsø, Norway, for a season of maiden cruises exploring the Arctic, from the Svalbard Peninsula and Iceland's landscapes of ice and fire to Greenland's dramatic majesty, the Northwest Passage and the wilds of Northern Canada.
In late Autumn, she will sail the US East Coast over 12 days, visiting New York, Norfolk and Charleston to Miami. From November, she'll be offering a range of 11 to 21-day cultural expedition cruises of Antarctica until March 2023,
SH Minerva and SH Vega will be joined early next year by the slightly larger SH Diana, which is already under construction at Helsinki Shipyard.
About Swan Hellenic
Swan Hellenic was relaunched in July 2020 to continue the spirit of cultural expedition cruising the company pioneered in the 1950s. Its purpose-built ships feature dedicated expedition facilities. SH Minerva and SH Vega, two new 5-star Polar Code PC 5 expedition cruise ships with ice-strengthened hulls launched in December 2021 and July 2022 respectively. A slightly larger PC 6 ice-class vessel, SH Diana, accommodating 192 guests, will set sail in early 2023.
Headquartered in Cyprus the cruise line's Hong Kong office serves the Asia Pacific, Greater China and Southeast Asia.