BANGKOK, 17 November 2023: The Pacific Asia Travel Association (PATA) confirms the Macao Government Tourism Office has won the bid to host the PATA Annual Summit 2024. 
The 2024 Summit will be supported by SJM Resorts and held from 15 to 17 May 2024 at the Grand Lisboa Palace Resort Macao.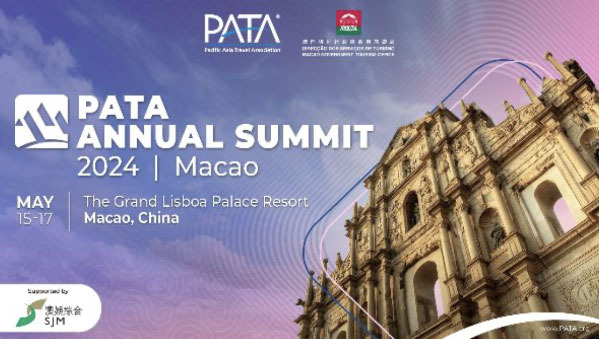 The programme, which comprises plenary sessions, breakout sessions, the PATA Executive Board and full board meetings, and the Annual General Meeting, will provide a platform for PATA's public and private sector members, PATA Chapters and PATA Youth worldwide to discuss the challenges, issues and opportunities facing the industry as it looks towards the responsible and sustainable growth, value, and quality of tourism in the region.
"All of us at PATA are excited to be returning to Macau for the PATA Annual Summit 2024 and receive first-hand updates about the significant developments in the destination since having previously organised successful PATA Travel Marts in 2010 and 2017, as well as the PATA Annual Conference in 2005," said PATA chair Peter Semone. "The Macao Government Tourism Office has been a strong partner of PATA since 1958 and our major sponsor for the PATA Gold Awards for the past 28 consecutive years. Next year's event provides Macao with the perfect opportunity to showcase their destination and the Greater Bay Area to all delegates."
Macao Government Tourism Office director Maria Helena de Senna Fernandes commented: "It is an honour for Macao to host the PATA Annual Summit 2024. PATA holds a special place in the heart of our tourism industry, and we are happy to be once again granted the opportunity to welcome delegates from near and far to meet in our city. Especially as this will be the first PATA event we host after the pandemic, allowing us to showcase to participants the current dynamic change in our destination towards more diversification for a memorable meeting in Macao."
For more information, visit www.PATA.org/pata-annual-summit-2024