SINGAPORE, 15 November 2023: Pandaw introduces its latest combo adventure this week, a 21-night one-off river cruise that embarks on a journey along all navigable stretches of the Mekong River in October 2024.
The 21-night expedition is a grand tour of Indochina, covering Cambodia, Vietnam, Laos and Thailand and is only possible thanks to Pandaw's ultra-shallow draft vessels.
The distinctive river ship cruise delivers the rich culture, history and nature of Indochina in one all-encompassing river adventure, which includes flights and accommodation between cruises.
Sailing in October 2024, this one-off special departure delivers an exclusive Pandaw in-depth exploration of the Mekong River from South to North. It combines two 10-night Mekong expeditions through Thailand, Laos, Cambodia and Vietnam. The four-country expedition sails all of the navigable stretches. Guests who join the cruise will learn about how one river supports a vast and diverse group of peoples and cultures as locally crafted Pandaw vessels navigate one of Asia's mighty river systems.
This combo cruise includes a flight from Saigon to Vientiane and a one-night stay in Vientiane between cruises covered in the price.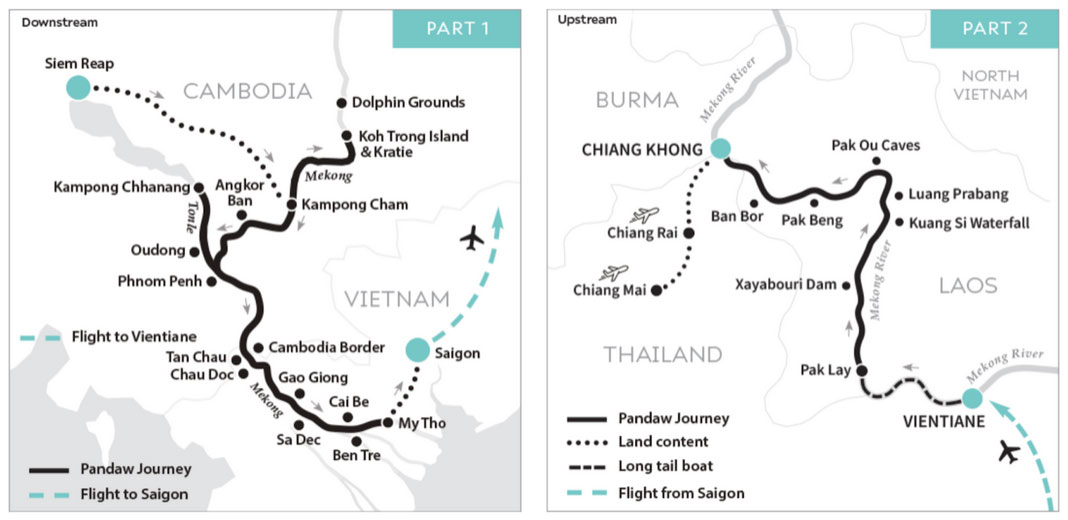 The Full Mekong, Four Country 21-Night Combo Cruise
SIEM REAP – CHIANG KHONG
21 nights
FROM USD9,596.00
Book your place today by visiting pandaw.com or contacting Pandaw at [email protected].