SINGAPORE, 16 November 2023: Singapore Tourism Board (STB) and Klook, Asia's leading travel and experiences platform, are scaling up efforts to drive inbound travel to Singapore, jointly investing over SGD2 million in marketing initiatives as part of their partnership.
Launched on 15 November, the marketing and tactical partnership between STB and Klook in Southeast Asia will focus on digital content powered by Klook's network of Klook Kreators (micro and nano content creators and affiliates) to drive engagement and conversion.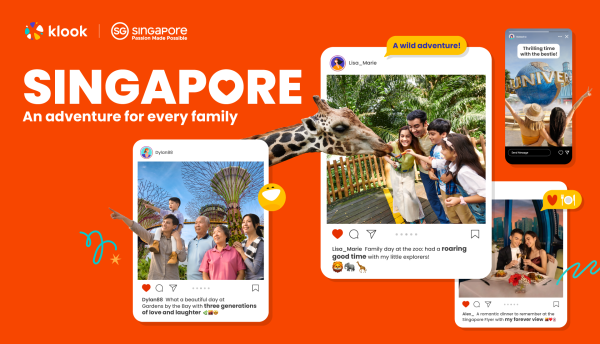 The latest initiative builds on a two-year Memorandum of Cooperation (MOC) signed in April 2023.
Singapore's tourism industry has seen continued recovery, with more than 11 million visitor arrivals as of 31 October 2023, and Klook's recent Travel Pulse survey showed that 1 in 3 Millennial and Gen Z travellers in Southeast Asia are looking to travel within the region, indicating a healthy appetite for exploration and discovery closer to home.
Klook general manager of Indonesia, Malaysia, Singapore Sarah Wan said: "Singapore has been a key destination leading travel recovery within Southeast Asia, and we're excited to partner with STB again. We aim to inspire travellers by highlighting how Singapore makes unexpected, diverse and unique experiences possible. The resurgence of global events has fuelled higher travel demand, which will be an area we're doubling down on. Our deep understanding of the next generation of travellers driving social travel will also guide these new efforts in showcasing the best of what Singapore can offer."
STB executive director, Southeast Asia Terrence Voon added: "We are delighted to team up with Klook to strengthen Singapore's position as a compelling travel destination and leading events hub in Southeast Asia. Our new initiatives aim to drive tourism recovery and highlight distinctive experiences that make each journey to Singapore memorable. They will also complement STB's new Made in Singapore campaign, which showcases how our city transforms ordinary moments into extraordinary experiences."
Klook's Travel Pulse survey also indicates that 87% of travellers in Southeast Asia are willing to spend on distinctive experiences during their holidays.
Launched in October 2023, the Live in Singapore – Epic Events in the Lion City campaign features family, culture, sports, and entertainment events that showcase the richness of Singapore's events scene.
These include theatrical musicals, concerts, Tour de France Prudential Singapore Criterium, Jumptopia, ZoukOut, and Singapore Comic Con.
For upcoming theatrical musicals in Singapore, Klook users can look forward to front-row seats sold exclusively on Klook for Matilda and tickets for Hamilton, where Klook was also the priority presale partner.
To complement the robust line-up of events, Klook is introducing product bundles to enhance the overall experience and facilitate further discovery of Singapore by offering activities, accommodation, and transportation options in its multi-vertical bundles.
Another Klook's Travel Pulse Survey finding shows that 97% of Millennials and Gen Z travellers in Southeast Asia rely on social media to find travel inspiration and holiday recommendations, making this an important platform for discovery.
(Source: Klook)