LONDON, 8 November 2023: Marking its 42nd year of involvement since 1981, Tourism Malaysia participated in the World Travel Market 2023, from 6 to 8 November 2023 at ExCeL London.
Led by Ministry of Tourism, Arts and Culture Malaysia secretary-general YBhg Dato' Roslan Tan Sri Abdul Rahman, the Malaysian delegation comprised 92 participants from 50 organisations such as state tourism boards, tour operators, hotels & resorts, associations, and airlines.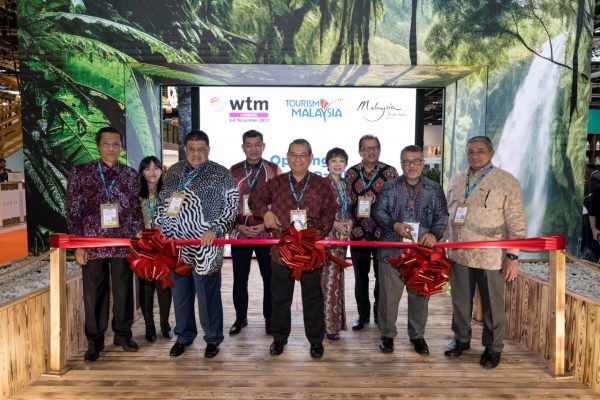 In a market update on tourism performance post-Covid, the Malaysian delegation confirmed the country was closing in on the 2023 target and should surpass 16.1 million international tourist arrivals with projected tourism receipts of around MYR49.2 billion.
Within the European market, the UK remains the largest source of holidaymakers heading for Malaysia. From January to September 2023, Malaysia welcomed 14.4 million international tourist arrivals. The UK market contributed 197,794 arrivals, a significant growth of 150.3% compared to the same period in 2022.
In addition, they alluded to the next Visit Malaysia Year (VMY) scheduled for 2026, which will act as a marketing catalyst spurring further growth. The Malaysian government has targeted 26.1 million foreign tourist arrivals with domestic spending of RM97.6 billion during the Vist Malaysia Year.
Highlighting Malaysia's ecotourism and sustainable tourism efforts, Tourism Malaysia and seven state tourism boards (Melaka, Negeri Sembilan, Pahang, Penang, Perlis, Sabah, Sarawak, and Terengganu) showcased their existing and new tourism products focusing on the country's rich biodiversity and local communities.
"We proudly promote our flagship tourism products that international and UK travellers love, such as our islands and beaches, shopping, family holidays, and eco-adventure tours. We are excited to announce that there is more to explore than ever, with many new hotels and attractions that will enhance Malaysia's destination appeal," said Dato' Roslan.