SINGAPORE, 17 November 2023: Emirates Group announced earlier this week its best-ever six-month financial results reporting a 2023-24 half-year net profit of AED10.1 billion (USD2.7 billion), surpassing its record half-year profit of AED4.2 billion (USD1.2 billion) last year by 138%.
The Group also reported an EBITDA of AED 20.6 billion (USD5.6 billion), a significant improvement from AED15.3 billion (USD4.2 billion) during the same period last year, illustrating its strong operating profitability.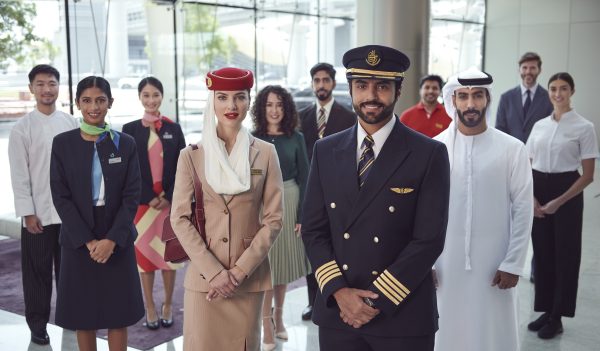 Group earnings
Group revenue was AED67.3 billion (USD18.3 billion) for the first six months of 2023-24, up 20% from AED56.3 billion (USD15.3 billion) last year. This was driven by strong demand for air transport worldwide, which has been on an upward trajectory since pandemic travel restrictions were lifted.
The Group closed the first half year of 2023-24 with a solid cash position of AED42.7 billion (USD11.6 billion) on 30 September 2023, compared to AED42.5 billion (USD11.6 billion) on 31 March 2023. The Group has tapped into its strong cash reserves to support business needs, including debt payments. So far, Emirates has repaid AED 9.2 billion of its Covid-19-related loans. The Group also paid AED 4.5 billion in dividends to its owner, as declared at the end of its 2022-23 financial year.
Emirates airline performance
Emirates continued to increase its global flight operations, adding capacity and connections through its Dubai hub to meet customer demand across markets. During the first half of 2023-24, the airline restored A380 operations to Bali, Beijing, Birmingham, Casablanca, Nice, Shanghai, and Taiwan.
In July, it launched daily non-stop services to Montreal, a new destination and the airline's second gateway in Canada.
Expanding connectivity options for customers, Emirates entered and enhanced codeshare or interline agreements with eight airlines in the first six months of 2023-24: Aegean Airlines, Air Canada, Etihad Airways, Kenya Airways, Philippine Airlines, Maldivian, Sri Lankan Airlines, and United Airlines. The codeshare partnership between Emirates and Qantas, which has seen over 15 million travellers benefit from joint flight itineraries since its establishment in 2013, received approvals for a further 5-year extension until 2027.
By 30 September, the airline operated passenger and cargo services to 144 airports, utilising its entire Boeing 777 fleet and 104 A380s. During the first six months of 2023-24, 10 A380 aircraft rolled out of Emirates' retrofit programme with completely refreshed cabin interiors and the latest onboard products, including Premium Economy seats. This enabled the airline to deploy its highly sought-after Premium Economy services on more new routes, including New York JFK, Houston, San Francisco, Los Angeles, and Singapore.
In the first half of 2023-24, Emirates launched a new global brand advertising campaign featuring Hollywood actor Penelope Cruz and introduced initiatives to enhance customer travel experience, including a new city check-in facility at Dubai International Financial Centre, free onboard wi-fi for Emirates Skywards members, and a new meal pre-ordering capability for customers to select their meal options in advance of travel.
Overall capacity during the first six months of the year increased by 25% to 28.5 billion Available Tonne Kilometres (ATKM) due to an expanded flight programme. Capacity measured in Available Seat Kilometres (ASKM) increased by 30%. In comparison, passenger traffic measured in Revenue Passenger Kilometres (RPKM) was up by 35% with an average Passenger Seat Factor of 81.5%, compared with 78.5% during the same period last year.
Emirates profit for the first half of 2023-24 hit a new record of AED 9.4 billion (US$ 2.6 billion), compared to the same period last year's profit of AED 4.0 billion (US$ 1.1 billion).
Emirates revenue, including other operating income, of AED 59.5 billion (US$ 16.2 billion) was up 19% compared with the AED 50.1 billion (US$ 13.7 billion) recorded in the same period last year. The airline's record performance is attributable to the strong passenger demand for international travel across markets and Emirates' ability to activate capacity to match demand and offer customers great value and services.
Emirates' direct operating costs (including fuel) grew by 9% in line with increased operations. Fuel remains the largest component of the airline's operating cost (34%), compared to 38% in the same period last year.
Driven by strong demand and increased operations during the six months, Emirates' EBITDA grew by 33% to AED19.5 billion (USD5.3 billion) compared to AED14.7 billion (USD4.0 billion) for the same period last year.
For airline information and bookings, visit www.emirates.com.