PHNOM PENH, 14 November 2023: Destination Mekong Summit will take place in Phnom Penh, Cambodia, from 6 to 7 December 2023, adopting the theme "Mekong in Motion, Mekong Emotions".
The event is billed as a networking opportunity for key players in the Mekong tourism industry to connect and learn from decision-makers, investors, entrepreneurs, and other stakeholders shaping the future of tourism in the Greater Mekong Subregion.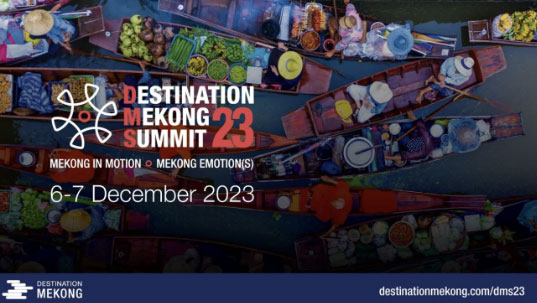 The line-up of speakers has yet to be announced.
The DMS23 continues to be a free event for Destination Mekong full members and partners who must show they are members to get a link to register for the event without fees. There is also a virtual attendance slot, but for non-members wishing to attend in person, the event's registration fee is USD100, according to the website. It's the first time the organisers have price-tagged the event for non-members. An early bird, 30% discount, is available until 17  November using the code DMEarlyBird.