MALDIVES, 17 November 2023: The idyllic Centara Ras Fushi Resort & Spa Maldives, known for its unparalleled romantic escapes and immersive experiences, emerged as a triumphant star at the recent 2023 World Luxury Spa Awards. 
The resort's SPA Cenvaree proudly claimed three prestigious awards, marking a significant milestone in this incredible destination's journey toward excellence in the hospitality industry.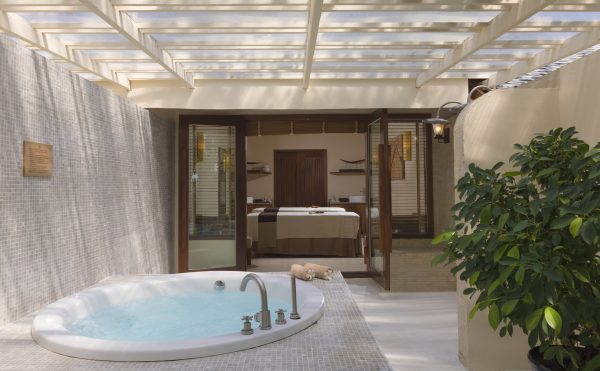 Centara Ras Fushi Resort & Spa Maldives's SPA Cenvaree was honoured at the 17th Gala Ceremony of the World Luxury Awards, taking home three awards, namely Best Unique Experience Spa in Indian Ocean, Best Luxury Adult Only Spa in Indian Ocean, and Best Luxury Romantic Destination Spa in Indian Ocean. 
Set amidst the breathtaking backdrop of the azure Indian Ocean, Centara Ras Fushi Resort & Spa is an adult-only haven for those seeking romantic escapades. With the unique blend of tranquillity and captivating experiences, the resort has become the ultimate canvas for love stories to unfold.
The award-winning SPA Cenvaree, a realm of complete calm and tranquillity in this paradisiac resort, has played a pivotal role in creating this stunning environment. Offering experiences inspired by Ayurvedic and Thai healing traditions, SPA Cenvaree provides guests with various treatments and multi-day programs that immerse them in pure serenity and rejuvenation.
The World Luxury Awards celebrated the commitment and dedication of leading establishments in the luxury hospitality industry, gathering nearly 300 establishments worldwide to acknowledge their excellence. It understands the needs of modern travellers, who increasingly value experiences over possessions and are willing to invest in unique, authentic, and immersive travel experiences.
Centara Ras Fushi Resort & Spa Maldives stands as a beacon of excellence in the hospitality industry, redefining romance and relaxation in the heart of the Maldives. These awards reflect the resort's dedication to providing guests with unforgettable experiences and further reinforce its reputation as a premier destination for romantic getaways. For more information about Centara Ras Fushi Resort & Spa Maldives and SPA Cenvaree, please visit www.centarahotelsresorts.com/centara/crf