HANOI, 14 September 2023: Vietjet and Boeing's high-ranking delegates reactivated an agreement for the low-cost airline to take delivery of 200 737 Max during US President Joe Biden's official visit to Vietnam.
Vietjet's contract to purchase 200 Boeing narrow-body aircraft was interrupted due to the 737 Max's issues, followed by the consequential impacts of the Covid-19 pandemic on Boeing's global supply chain.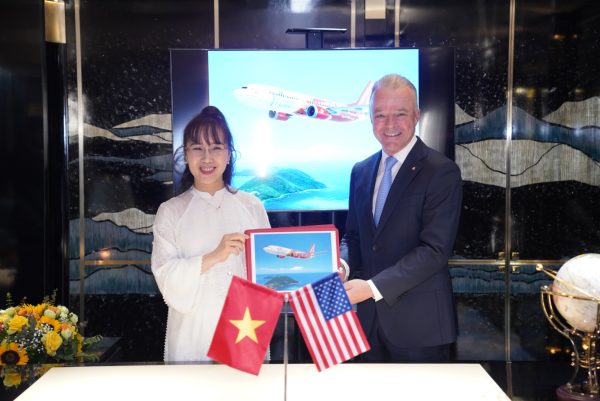 Vietjet Chairwoman Nguyen Thi Phuong Thao and Boeing Global President Brendan Nelson have agreed to deliver 12 737 Max in 2024 and have included additional terms in the 200 737 Max orders contract.
The contract, worth more than USD25 billion with a delivery schedule spanning five years from 2024, has been lauded as one of the largest commercial deals and has contributed significantly to the trade balance between Vietnam and the United States.
The first batch of 737 Max will be delivered to Thai Vietjet, the affiliate company of Vietjet Group.
Vietjet's order has been expected to bring 200,000 jobs to the US labour market, creating a value worth around USD35 billion, including aircraft orders and engine engineering services.
In addition, Boeing and Vietjet will join hands to make Vietnam an international centre for aviation services, including training, education, and maintenance. The two parties will also cooperate for new technology adoption of artificial intelligence (AI), aviation technology, green fuels, and reducing emissions.
Both sides will additionally work on supporting the development of aviation infrastructure, airport operational capability enhancement, and flight management in Vietnam. Boeing will also look to promote Vietnam's participation in its global supply chain for aircraft production and aviation equipment.