LANGKAWI, 26 September 2023: Malaysia's Langkawi International Airport (LGK) won the Best Airport in Asia-Pacific Award for the 2 to 5 million passengers per annum category at the ACI Global Customer Experience Summit 2023 in Incheon, Korea, earlier this month.
This is the airport's second win in a row in the ACI Awards, which are sponsored by Amadeus, a global distribution system and software specialist for airlines and travel companies.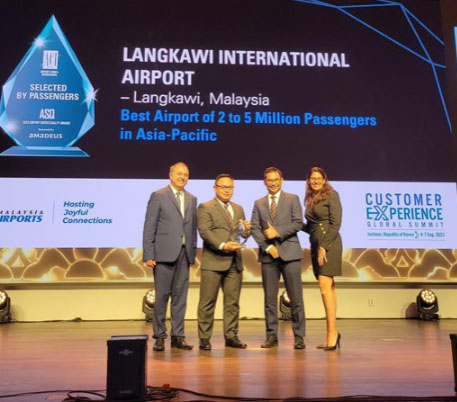 The Airports Council International (ACI) annual Customer Experience Global Summit successfully concluded in Incheon, Republic of Korea, attracting 500 delegates, including government officials, airport and aviation executives, and customer experience experts.
During the summit's gala dinner, 144 Airport Service Quality (ASQ) Awards were presented to 75 airports recognising airport excellence in customer experience worldwide based on data from ASQ's renowned departures and arrivals surveys.
Hartsfield-Jackson Atlanta International Airport has been confirmed as the host of the ACI Customer Experience Global Summit from 24 to 26 September 2024 in Atlanta, USA.
The ASQ is cited as one of the world's leading airport customer experience measurement and benchmarking programmes. Compared to other programs in the aviation industry, it is based on live research via surveys gathered at the airport—direct from the traveller—rating their satisfaction on the day of travel.
From over 465,000 surveys collected in 2022, 144 awards have been won by 75 airports worldwide, breaking down into various awards categories, including the perennial Best Airports by Size (passengers per year) and region.
For more information visit https://www.lada.gov.my/en/
About ACI
Airports Council International (ACI), is the trade association of the world's airports. ACI serves 712 members, operating 1925 airports in 171 countries.