BANGKOK, 25 September 2023: Tourism Authority of Thailand's governor Thapanee Kiatphaibool says she will work closely with Chinese tourism authorities, the Pacific Asia Travel Association and the UNWTO, hinting she intends to strengthen relations with regional tourism leaders.
Following her attendance at the Global Tourism Economic Forum in Macau last week, she commented on her Facebook page: "My visit to Macau is in line with my "Partnership 360" policy to strengthen the Thai tourism industry across both the demand and supply sides through efficient cooperation with all potential stakeholders worldwide.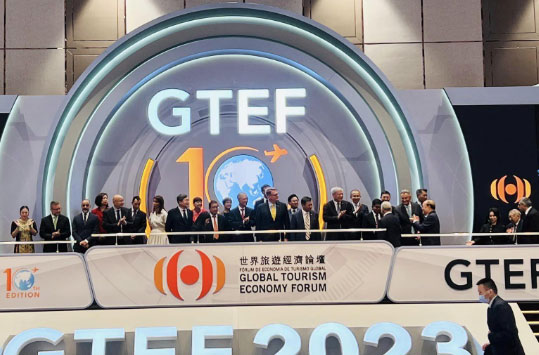 "Today has been another productive and stimulating day at the Macau's Global Tourism Economy Forum (GTEF). I heard some very visionary and informative speeches on the role of tourism in helping the post-COVID recovery. I came away with high confidence in a bright future."
Thapanee is one of the most proactive social media users among the region's tourism leaders. She uses social media platforms to reach out to tourism partners and update followers directly with her comments and reports on her activities almost as they happen.
"I also plan to work closely with the Chinese tourism authorities and the UN World Tourism Organisation and Pacific Asia Travel Association to facilitate the economic revival.
"The opening of the People's Republic of China after 1,000-day travel restrictions sends hope to the global tourism economy by building bridges between China and the world. The GTEF event is a source of insights on China's critical role in the global travel economy and its role in driving sustainability."