KUCHING, 9 June 2023: Ticket sales have opened for music lovers planning to visit the Sarawak Tourism Board's Rainforest World Music Festival (RWMF).
The official launch of the 2023 ticket sales blitz takes place at Vivacity Megamall Kuching, Plaza Merdeka Kuching and Bintang Megamall Miri 1000 to 2200 from 9 to 11 June 2023.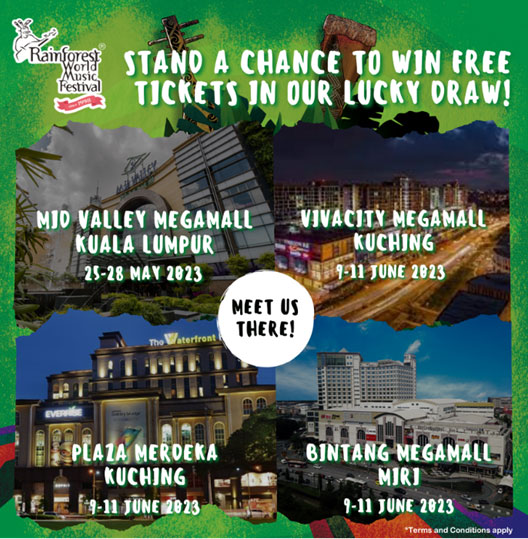 Those who buy their tickets at these locations can join a lucky draw to win an extra ticket to the festival. (Terms and conditions apply).
Pre-sale tickets are available in a range of categories: Adult 1-Day Pass Fri/Sun (MYR230), Adult 1-Day Pass Sat (MYR260), Adult 2-Day Pass Fri + Sat / Sat + Sun (MYR440), Adult 3-Day Pass (MYR590), and Child 1-Day Pass Fri/Sat/Sun (MYR80) are up for grabs as a limited-period offer.
RWMF 2023, the festival's 26th edition, will feature a diverse range of performers of music genres, including Grammy Awards winner Gipsy Kings featuring Tonino Baliardo from France of such hits as 'Djobi Djoba' and 'Bamboleo' set to enthral visitors with their pop-oriented music, distantly derived from traditional flamenco and rumba genres.
Other international performers include Big Mountain from Jamaica and the USA, best known for their hit song 'Baby I Love Your Way', Safi Theatre from Tanzania, Rastak from Iran, Fasylive from Maldives, Afriquoi from the United Kingdom, Chatusram from India, Rizal Hadi & Folk from Indonesia and Ethno Thai Fusion Sound Band from Thailand. The line-up will also include performers from Japan, Hong Kong and Singapore.
RWMF2023 will also highlight Malaysian local talents from East and West Malaysia, which include Zee Avi, Suk Binie, Aseana Percussion Unit, Nadir, Steve Thornton & Afroasia, Sada Borneo, Tuku Kame, Nading Rhapsody, Geng Wak Long, Buloh Bekocak, At Adau, Meruked, and Orang Orang Drum Theatre.
Themed 'Reflections', RWMF 2023, the festival runs from 23 to 25 June at the Sarawak Cultural Village complex in Kuching. Now in its 26th edition, it offers festival-goers an opportunity to engage with world music and reflect on the connection with nature.
More info on the musical line-up and ticketing can be found on Rainforest World Music Festivals' official website at www.rwmf.net.