BANGKOK, 12 June 2023: Thai Vietjet is flying weekly scheduled charters between Bangkok (Suvarnabhumi) and Ulaanbaatar the capital city of Mongolia, teaming up with local tour operators who are selling seven-day holiday packages to Mongolia.
The direct flight, scheduled every Sunday during the summer season, launched on 4 June, supported by Camp Safari and Dunamis Thailand tour groups.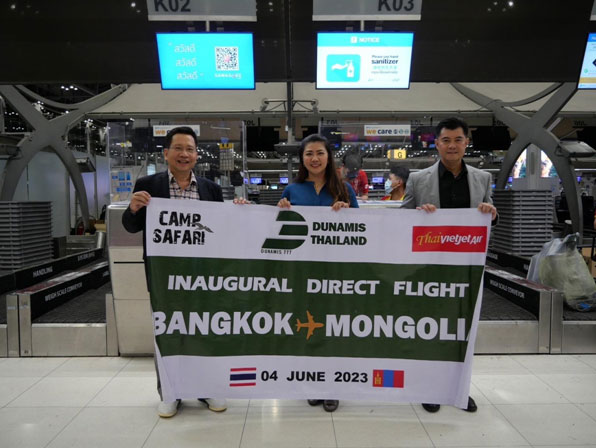 Thai Vietjet flight VZ8310 Bangkok (Suvarnabhumi) – Ulaanbaatar departs at 0240 and arrives in Ulaanbaatar at 0930 (local time). The return flight VZ8311 departs Ulaanbaatar at 1030 and arrives in Bangkok at 1505 (local time).
The scheduled charter flight using a 200-seat A321 operates between Bangkok Suvarnabhumi Airport (BKK) and Chinggis Khaan Ulaanbaatar International Airport (UBN).
The embassy of Mongolia in Bangkok gave the new charter flights a plug on its Facebook page last week. It provided additional information on the travel firms based in Thailand selling tour packages linked to the weekly charter flight.
They include:
Sevendays Holiday (http://www.sevendaysholiday.com/home/);
Wonderful Package (https://www.wonderfulpackage.com);
Around the World (https://aroundtheworldthailand.com).
For travellers buying airfares without the tour package, the embassy flags VTG (http://www.vtg.co.th) or visit www.tapatrip.com.
Travel to Mongolia during the summer months is trending in Asia, with charters serving Mongolia from Southeast Asia and Japan launched last week.
Japan Airlines started charter flights to Mongolia on 1 June 1. On 2 June, Miat Mongolian Airlines started charter flights to Kuala Lumpur in Malaysia and Singapore. The weekly charter stopped in Kuala Lumpur and then continued to Singapore. The airline is home-based at the new Chinggis Khaan International Airport(UBN).
Tour packages are curated by Routes & Journeys and Chan Brothers. OM7702 takes off from Changi for the nonstop flight to UBN, arriving at 1555. On the return route, it makes a stop in Kuala Lumpur. For details of the holiday packages bundled with the charter flights, visit the Facebook pages of Routes & Journeys and Chan Brothers.