SINGAPORE, 24 2023: Founder of the latest start-up airline in Thailand, Patee Sarasin, confirms 'Really Cool Airlines will commence flights in Q1 2024 starting with services to Asian destinations such as Singapore, Tokyo, Hong Kong and Taiwan.
Patee told a press conference Tuesday the airline would start flights to European destinations in 2025. It has still to decide on aircraft to serve regional and intercontinental routes.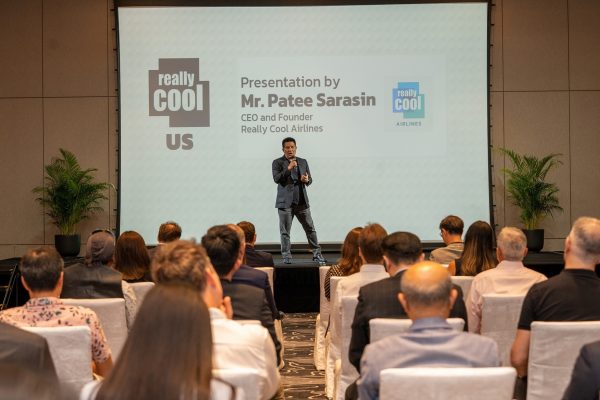 Aviation experts in Thailand said flights to Japan made sense during the start-up phase as Japan represents a significant tourism source market for Thailand and is also probably the most popular destination for Thais booking Asian holidays.
Patee Sarasin is a popular figure in tourism circles in Thailand, having founded Nok Air and later an innovative travel company Reallycoolgo Travel promoting outbound travel to Thailand's social media generation.
This week, Really Cool Airlines introduces the airline's ReallyCool US Digital Membership based on an interactive app-based programme that allows members to tailor their travel experiences at an unbeatable value.
Patee told the press conference that early adoptees of the ReallyCool US Digital Membership programme will enjoy an exclusive array of once-in-a-lifetime benefits from the airline tagged "Legendary Series."
The Legendary Series is available only to 999 members worldwide, offering money-saving features.
"By showing support for Really Cool Airlines at this early stage, members are rewarded with tangible benefits as the airline expands its network in coming years, the airline statement reads.
The estimated value of the benefits in The Legendary Series is USD15,000, but early supporters (the first 999 worldwide) – will pay only USD6,000 for a block of benefits.
Listed benefits
Two free Super Cool seats round trip to any destination Really Cool Airline flies, with no expiration date (Super Cool seats are the irline's equivalent of business class seats)
Two vouchers for 50% off when buying return Super Cool seats, available for any destination on the network, a benefit that is awarded every year for life.
Two free upgrades to Super Cool seats when buying return Cool Seats (economy) to any destination in the network, another benefit that is awarded every year for life.
Shareholders
In response to TTRW's questions concerning the airline's registration and shareholding structure, the airline's communications and public relations agency made the following official response.
"Really Cool Airlines was registered under RC Airlines Co Ltd in March 2023 with a registered capital of THB200 million. The airline is funded by a group of capitalists who have chosen not to be publicly disclosed. As such, we do not have information to share about the founding stakeholders."