SINGAPORE, 15 May 2023: Skyscanner's latest report says the booking windows are normalising, and destinations, particularly in APAC, benefit from increased search volumes compared to last year.
Long-haul international travel has been slower to recover than other segments, but 2023 looks set to change that with long-haul windows lengthening, according to the Skyscanner report.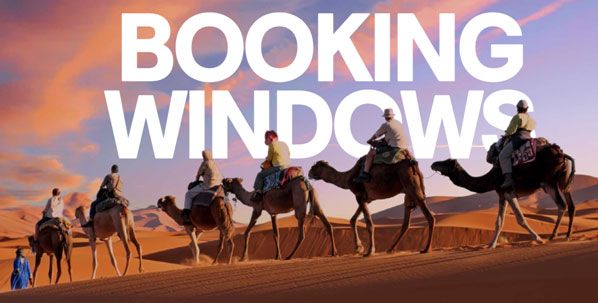 Global travel marketplace Skyscanner's latest report, 'Horizons: Destination & Booking Insights Q1 2023', explores the latest trends in international travel.
The report released the first week of May unpacks and explores extensive flight search and booking data from each region – the APAC, the Americas and EMEA – to provide insights into how travellers think about travel over the next six months.
Analysis of critical indicators, including booking windows segmented by haul type and trending destinations, provides unrivalled insights for any business within the travel ecosystem.
Skyscanner director of destination marketing Mike Ferguson commented: "Globally, we're seeing more travellers come to Skyscanner than ever before. It indicates the sector's continued recovery and the exceptional travel demand across all regions.
The report has highlighted that most trending summer travel destinations are in Asia Pacific.
 Key report findings for each region include: 
GLOBAL
· The majority of trending destinations for Q2 and Q3 travel are in APAC, with Japan, China, Vietnam, Thailand, Malaysia and Taiwan benefitting
· +90 day booking windows for long haul travel are up across all regions, signalling both traveller confidence and demand, with search share moving in line with pre-pandemic seasonal norms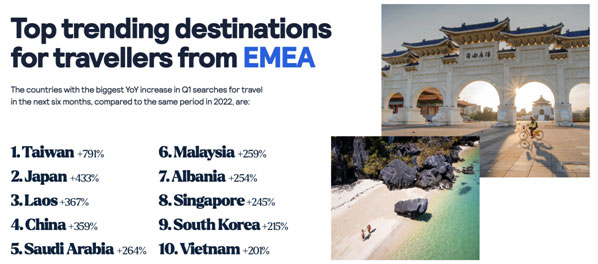 APAC
· Long haul travel top of mind for APAC travellers as booking windows increase in all segments from <1 week to +90 days
· APAC booking windows are some way off, returning to 2019 patterns across all haul types
· Taiwan, Laos, and Japan are trending destinations for APAC travellers, with significant increases in search volumes compared to 2022
· APAC travellers are also looking for inspiration with 'Everywhere' a top trending search term, whilst European destinations Austria and Hungary see rising year-on-year search demand
· Japan, Thailand and Vietnam make up over two-thirds of trending search volumes in Q2 and Q3
EMEA
· EMEA travellers looking ahead to summer as longer booking windows increase for both short and long-haul travel
· All booking windows are tracking close to 2019 search behaviour as trip planning normalises
· EMEA* travellers are eager to return to destinations in Asia, with Taiwan, Japan and Laos seeing surging search demand compared to 2022. Destinations such as Saudi Arabia and China see high demand in the short term, with Malaysia, Japan, South Korea and Vietnam also trending throughout Q2 and Q3
· Albania, the only trending European destination in the top 10, sees increased search demand year-on-year
AMER**
· AMER travellers looking ahead as longer booking windows, particularly 60-89 days, increase for all haul types
· Fluctuations in short-haul booking windows vs 2019, while long-haul returns to pre-pandemic norms
· AMER travellers are eager to return to destinations in Asia as the region sees surging search demand compared to 2022. Other long-haul destinations such as Morocco, New Zealand and Norway are also trending throughout Q2 and Q3
· Bucket list destination Fiji also sees increased year-on-year search demand, particularly in July and August
Visitors to Skyscanner are now surpassing 2019 levels, with more than 100m+ travellers accessing the company's app, desktop and mweb platforms monthly.
To view the report online or download a PDF copy, visit https://reports.skyscanner.net/
*EMEA is short for Europe, the Middle East and Africa.
**AMER covers the USA, Canada and South American countries, including Mexico, Brazil and Argentina.
(Source: Skyscanner)