LANGKAWI, 11 APRIL 2023: The Langkawi International Maritime and Aerospace Exhibition 2023 (LIMA'23) bounces back from a four-year hiatus and has already achieved its targetted 600 exhibitors, Bernama news channel reports.
The 16th Langkawi International Maritime and Aerospace Exhibition 2023 (LIMA'23) will convene in two locations on Langkawi Island next to the airport and near the cruise terminal at the Resorts World complex, from 23 to 27 May.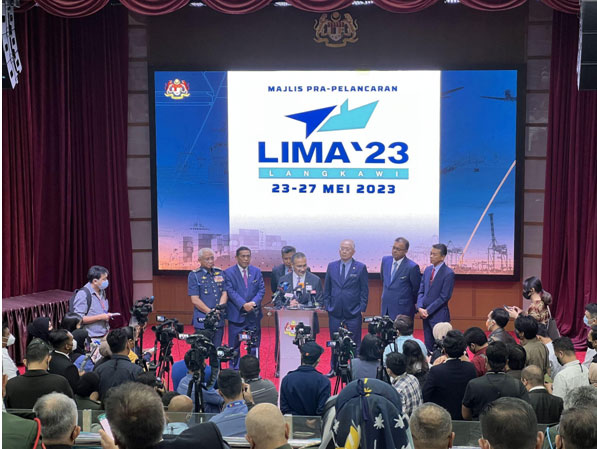 Highlights of the show include a pavilion featuring the latest in drone technology, an exhibition zone for electric aircraft, an international space forum, and a career fair focusing on maritime and aviation job opportunities.
Reported first by Bernama, Alpine Integrated Solution executive director Muhammad Aqlan Pacleb, the appointed co-organiser of LIMA'23, said the area of ​​the exhibition hall has also been increased by 28% and was now fully booked.
"Our target of 600 exhibiting companies has been achieved, even though only 480 companies were involved previously," he said when appearing as a guest on TV Al Hijrah's, 'Assalamualaikum' programme last week.
LIMA'23 was officially declared back in business at a media launch earlier in the year. Media accreditation was officially open until 15 March.
Check out LIMA 2023 website at https://limamalaysia.com.my/
The main events and exhibition will convene at Langkawi's Mahsuri International Exhibition Centre (MIEC) and Resorts World Langkawi (RWL).
Limited to trade visitors from 23 to 25 May, the exhibition extends for two more days, 26 to 27 May and will be open to the general public.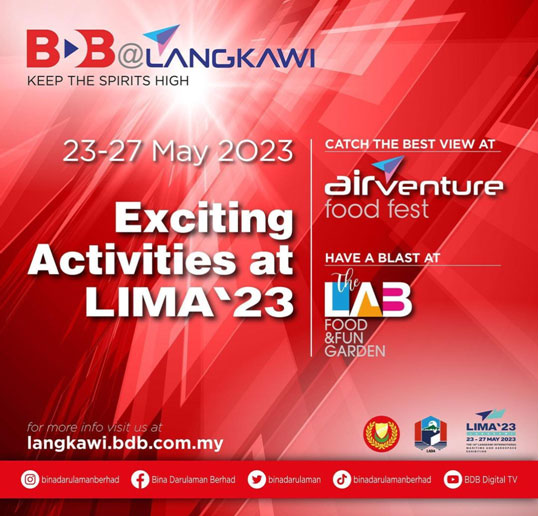 On the sidelines of LIMA 2023: The Lab for Food and Fun Garden
Visit https://limamalaysia.com.my/visitor/visit-lima to register and purchase tickets.
For more information visit www.langkawi.bdb.com.my
Langkawi Development Authority
(Your Stories: LADA)