BALI, Indonesia, 3 March 2023: Skål Asia confirms its annual Asia Congress will convene in Bali from 1 to 4 June 2023 at the five-star Merusaka Nusa Dua.
The event will kick off with an evening welcome cocktail party on Friday, 1 June, followed by a full-day congress season on Saturday, 2 June, which includes a networking lunch and dinner.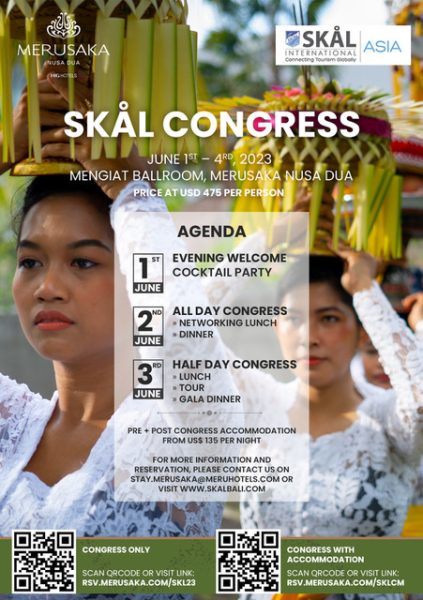 On Sunday, 3 June, delegates will attend a half-day congress session followed by a tour and a grand gala dinner to wind up the Bali congress.
For delegates who fancy extending their stay, pre and post-congress accommodation options are available at the Merusaka Hotel, starting at USD135 net per night.
"We are thrilled to be hosting the Skål Asia International Congress at Merusaka Hotel in Bali," said the hotel's general manager Ian McDonald Cameron. "Our beautiful property offers the perfect setting for members to come together, network, and learn about the latest trends in the tourism industry."
Skål Asia is an international organisation of travel and tourism professionals with a mission statement to promote tourism while fostering goodwill and friendship among members.
The Asia Congress is an annual event that brings together industry leaders, travel professionals, and tourism organisations to share insights, discuss trends, and collaborate on ideas that can help promote tourism. It returns to the busy Asian travel trade calendar after a two-year hiatus.
"We are excited to bring the Skål Asia Congress to Bali," said Skål Asia acting president Keethi Jayaweera. "Bali is a popular destination for travellers, and we look forward to showcasing the island's beauty to our members while allowing them to connect with fellow professionals in the industry."
(Source: Andrew Wood, A&P Media)