SINGAPORE, 8 March 2023: The Singapore Tourism Board has launched SingapoRewards, a new programme offering complimentary Singapore experiences for international visitors.
This programme will run through 2023 and allow visitors to try one of nearly 40 new or "off-the-beaten-path" experiences in Singapore for free.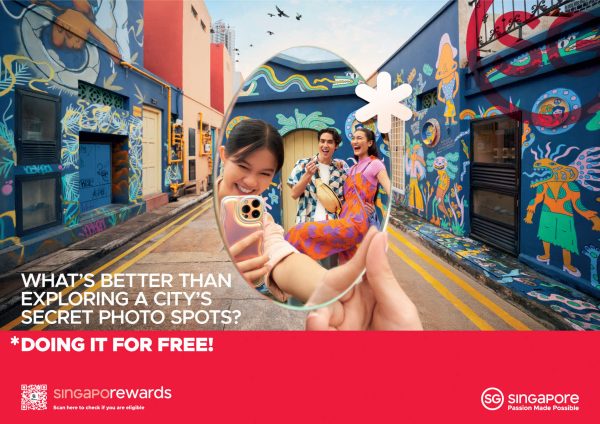 Starting 7 March 2023, eligible short-term visitors to Singapore can redeem a free experience from a specially selected list of SingapoRewards activities. Many of these experiences will showcase less well-known places of interest or provide access to unique, exclusive experiences. These experiences will offer new perspectives of Singapore – even to returning visitors. Redemptions and bookings can be made on the VisitSingapore app or the SingapoRewards microsite.
Singapore Tourism Board chief executive officer Keith Tan said: "Tourism has returned strongly to Singapore since our borders reopened last year. As more international travellers return, we want to enhance their experience of Singapore by introducing them to hidden gems unique to our country. By focusing on innovative experiences, SingapoRewards provides a platform for local businesses to launch and test new products and offerings. I invite all visitors to explore our city's diverse offerings through SingapoRewards, and to share their positive experience with others."
A better way to holiday in Singapore
SingapoRewards was successfully piloted from Oct 2022 to March 2023 in Australia, India and Indonesia. With the full global launch, visitors can look forward to different activities to suit their interests and itineraries. These are curated across various precincts and categories:
• Novelty and excitement: Explore picturesque precincts through unique tours such as Historical Singapore Bike Tours and Bugis, Waterloo and Kampong Gelam Instagram Walking Tour.
• Food and dining: Savour local culinary delights on board the Singapore River Dining Cruise as you explore the island city's history or discover the origins of Singapore Dry Gin at the Brass Lion Distillery Tour.
• Sustainability: Enjoy eco-friendly activities such as the Pleated Bag Making Workshop, learn about aquatic husbandry and conservation at S.E.A. Aquarium + Behind The Panel Guided Tour, or take an inside look at one of the world's best airports through the Jewel Connection: Changi Airport & Jewel Changi Walking Tour.
• Wellness: Find an oasis of calm at the Singapore Flora Heritage Room Diffuser Workshop or get a refreshing workout at the Aqua Spinning Workout Class.
Monster Day Tours founder Suen Tat Yam commented: "We designed The Jewel Connection: Changi Airport & Jewel Changi Walking Tour to offer a rare insider look at one of the world's best airports.
"Since the SingapoRewards campaign was piloted in October 2022, we've received such positive feedback on the tour that we can't wait to roll it out to more visitors."
Brass Lion Distillery founder Jamie Koh shared: " Brass Lion Distillery is Singapore's first full-fledged micro-distillery producing premium handcrafted spirits. Brass Lion is proud to welcome international visitors into our home. With our Distillery Tour, participants can take a behind-the-scenes look at our process and enjoy a guided-tasting flight of our flagship gins. Brass Lion aspires to put Singapore on the map for gin lovers, so we appreciate the opportunity to share our approach to gin-making and introduce travellers from all over the world to our uniquely Singaporean spirits."