KOTA KINABALU, 9 March 2023: Sabah's homegrown Cars and Urban Lifestyle Trends (CULT) event is coming back; this time, it is expected to draw an even larger crowd.
CULT event director Azlin Awang Chee said this year's car show would be held from 10 to 12 November and should attract 30,000 visitors and car enthusiasts.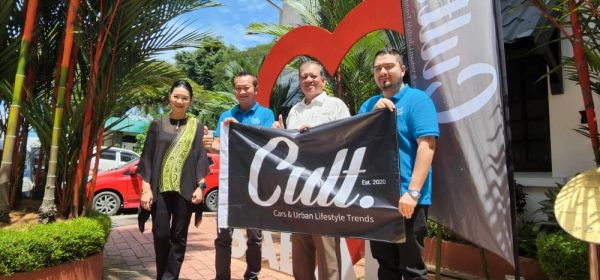 The Sabah International Convention Centre (SICC), where the first show was held last year displaying 600 custom vehicles, will again serve as the exhibition's venue.
Azlin, alongside CULT promotion director John Kong, paid a courtesy call to Sabah Tourism Board (STB) chairman Datuk Joniston Bangkuai on Thursday to brief him on the second edition of CULT Carshow.
"The SICC's enthusiastic backing is also a huge boost for our event, which attracted over 20,000 crowds last year. This time, we plan to bring in a greater selection of rare and unique vehicles from abroad and across the country," said Azlin, adding they have received confirmed participation from Thailand, Singapore, and Indonesia.
He continued by saying that CULT was determined to provide a memorable experience for locals and visitors by organising various side activities and entertainment celebrating the thrill of automotive culture.
While praising the initiative's success, he said Sabah ought to host more signature events just like CULT, which can draw international participants.
"Big car shows can attract many car enthusiasts and collectors from all over the world. This can create a buzz and generate interest in Sabah, drawing in visitors who may not have considered Sabah as a tourist destination before," said the state Assistant Minister of Tourism, Culture, and Environment.
"I believe the event can help to create a sense of community and bring people together while also highlighting the unique attractions and offerings of Sabah as a tourism destination," said Joniston, adding STB supports events that benefit the state and have economic spillover.
For more information visit: www.sabahtourism.com
(Your Stories: Sabah Tourism Board)