LANGKAWI, 10 March 2023: Langkawi Development Authority is back positioning the beautiful island of Langkawi on the world map at ITB Berlin 2023.
Held from 7 to 9 March 2023 at the Berlin ExpoCenter City (Messe Berlin), the B2B travel fair covers 190,000 m² of exhibition space comprising 27 halls.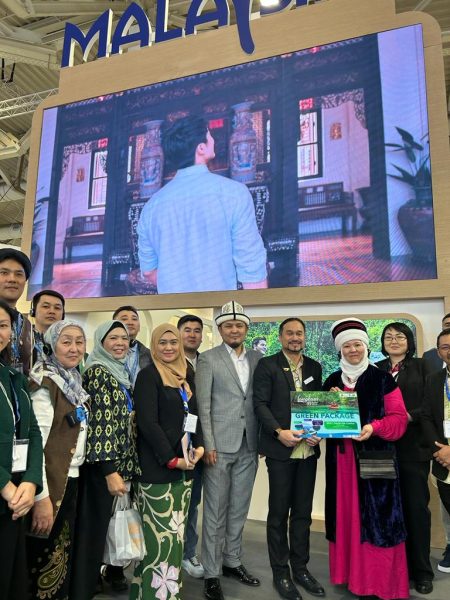 LADA's top priority, along with Cable Car Langkawi, was to launch the Geopark Green Packages available for tourists visiting Langkawi.
Commenting on their participation, LADA's deputy chief executive officer Wan Kamarul Faisal Wan Kamardin said: "It is truly an honour to be given a platform to share the beauty of Langkawi with the world.
"We are excited to reveal a variety of new packages for the UNESCO Global Geopark in Langkawi. We take pride in being the home to the first Global Geopark in Southeast Asia to be awarded UNESCO status. Tourists planning to step foot in Langkawi will not be disappointed. The combination of geological features, breathtaking views and exciting activities are not to be missed".
The Langkawi Geopark Green Package provides a unique and fascinating glimpse into the island's geological formation.
One way to do it is to ride a jet ski and witness the unique limestones and marble structures. The thrill of jet skiing is an added incentive as you enjoy the stunning views of the Dayang Bunting Marble Geoforest Park and Malaysia's second-largest island freshwater lake. An alternative method of admiring Langkawi would be to do so aerially. The Sky Cab Panoramic View provides just that. As the cable car elevates to the peak of Mount Machinchang, visitors will be treated to a breathtaking view overlooking the Andaman Sea.
Nature lovers, too, can look forward to the newly unveiled package with the Mangrove Safari Tour of the Kilim Geoforest Park or Kubang Badak Bio Geo Trail. The Kilim Karst Geoforest is a karstic formation mangrove forest with an environment suitable for hosting several rare species of flora and fauna. Besides revelling in the unique environment, this package also comprises tourists planting one mangrove or native tree, allowing them to leave their mark in Langkawi. Meanwhile, the unique tidal river estuary of Kubang Badak BioGeo Trail is home to 13 interesting sites. Hop on a boat and get the chance to explore the mangrove or embark on a bird-watching trip to be on the lookout for shorebirds and mangrove birds.
Completing the package, learn to appreciate the tradition of rice ecosystems with the Laman Padi package. The massive 8.6-acre area presents a rustic and serene view of the paddy fields. Upon exploring the paddy field and gallery, tourists can relax at the pavilion, resting sheds or balconies at the complex, soaking in an overview of the open field. The package includes a Paddy Gallery Tour, Rice Field Tour, Herbs Garden Tour, Traditional Paddy Planting, Rice Grinder, Rice Trashing, Rice Winnowing, Coconut Grating, Food Demonstration, Catching Fish and Scarecrow Making.
"Statistics show that Germans are big fans of our beloved island. As of September 2022, Germany was listed as one of the top markets for Langkawi. We strongly believe we can reinforce and perhaps even strengthen that statistic in the coming years. We will continue developing our package deals to keep up with current demands and ensure all visitors feel satisfied when they step out of Langkawi," added Haji Ahmad Fuad.
For more information on LADA, please visit https://www.lada.gov.my/en/, https://naturallylangkawi.my or https://langkawigeopark.com.my/
(Your Stories: LADA)