VIENTIANE, Laos, 21 March 2023: Construction of a new airport bang in the middle of the Golden Triangle where the borders of Thailand, Laos and Myanmar meet will open this year, according to a report last week by AeroLaos.
Named Bokeo International Airport and located in Tonpheung district, almost within sight of the Mekong River and the Thai town of Chiang Saen, the completed runway extends for 2,500 metres and is 60 metres wide. That makes the runway wide enough for an A380 to taxi down, but the length limits take offs to the smaller A350. The airport will be designated level 4C.
Lao Airlines has already conducted test flights using ATR72 aircraft.
Located in the Golden Triangle Special Economic Zone, the airport complex, including the passenger terminal, parking areas and cargo bays, will cover 300ha.
The passenger terminal will initially have a capacity for 600 passengers, but when fully operational, it could accommodate between 1.5 to 2 million passengers a year.
The airport is close to a massive casino project and high-rise condominiums built by Chinese investors. Once completed, flights from Kunming will ferry Chinese punters and tourists to the casino. They previously flew to Chiang Rai's airport and transferred the 80 km to the border before crossing the Mekong River by ferry to the casino complex.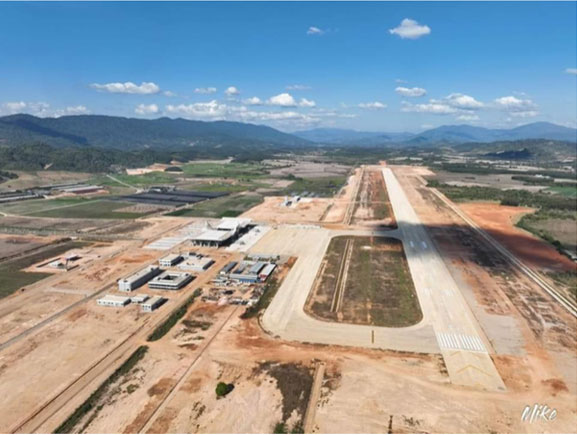 Technically it will be the second airport in Bokeo province that borders the Mekong River and Thailand. The other one is at Huay Xai, facing Chiang Khong town in Thailand and just a few kilometres from the Lao Thai Friendship bridge. Huay Xai airport was served by domestic flights until the Covid-19 outbreak in 2020 and is now closed to commercial flights.
Land preparation for the Borkeo International Airport was started in 2015, but construction hit numerous snags, the latest linked to the Covid-19 lockdown.
In 2022, Vientiane Times reported the construction cost had exceeded USD175 million, financed by the Hong Kong-based Greater Bay Area Investment and Development (HK) Limited, a Dok Ngiew Kham Group member.
While aviation officials in Laos talk up the role of the new airport as a tool to boost tourism to the country, its initial priority will be to revive casino tourism by flying in Chinese punters. Still, in the long run, it could be used to develop direct airline routes from other Southeast Asian cities for tourists keen to explore Northern Laos and possibly cross the river border and visit Chiang Rai and Chiang Mai in Thailand.
The passenger terminal can handle up to 600 people and, when fully operational, is expected to accommodate 1.5 to 2 million passengers a year.