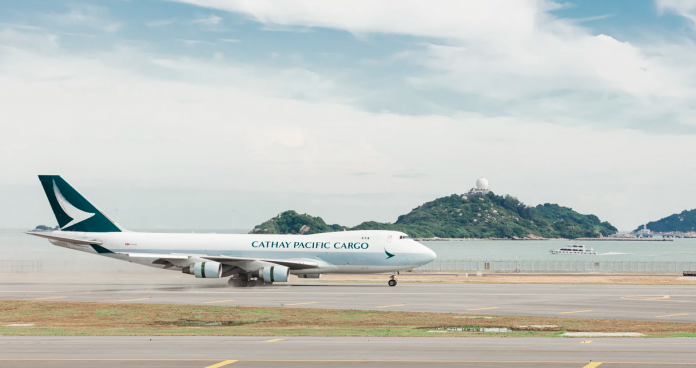 HONG KONG, 14 March 2023: Cathay Pacific and its subsidiary HK Express will operate about 70% of pre-pandemic passenger flight capacity by December 2023, returning to pre-pandemic levels by the close of 2024, the airline group reported in its performance figures for 2022.
The group's airlines added about 3,000 passenger flights during the fourth quarter of 2022. At the close of the year, the group operated one-third of pre-pandemic passenger flight capacity, representing approximately eight times the average capacity the airlines together operated in the first half of the year. Cathay Pacific ended the year operating passenger flights to 58 destinations, double the 29 destinations the airline flew to in January 2022.
Financial Results
The Cathay Pacific Group, including airlines, subsidiaries and associates, reported an attributable loss of HKD6,548 million in 2022 (2021: loss of HKD5,527 million). The loss per ordinary share in 2022 was HK111.3 cents (2021: loss per ordinary share of HK95.1 cents).
The second-half 2022 results for the group's airlines and subsidiaries saw a marked improvement over the first-half 2022 results, reporting an attributable profit of HKD2,261 million in the second half of 2022 but an attributable loss of HKD255 million for the entire year of 2022.
However, the results from associates (the majority of which are recognised three months in arrears) reflected a significant loss of HKD6,293 million (2021: loss of HKD1,710 million). As a result, the group's attributable loss in the second half of 2022 was HKD1,549 million (2022 first half: loss of HKD4,999 million; 2021 second half: profit of HKD2,038 million).
In the Chair's Statement, Patrick Healy noted available unrestricted liquidity stood at HKD27.2 billion as of 31 December 2022. The
government has also extended the drawdown period for an HKD7.8 billion bridge loan facility for 12 months to 8 June 2023.
In 2022, Cathay Pacific's passenger revenue increased by 214.9% to HK$13,686 million compared with 2021. Passenger flight capacity, measured in available seat kilometres (ASKs), increased by 51.6%, while traffic, measured in revenue passenger kilometres (RPKs), increased by 258.3%. The airline carried 2.8 million passengers in 2022, an average of 7,682 per day, 291.1% more than in 2021. The load factor was 73.6% compared with 31.1% in 2021.
Key Developments
While 2022 was a challenging year, the airline group achieved important milestones. It took delivery of five new aircraft and reactivated 24 aircraft parked overseas to build back flight capacity.
Expanding on the introduction in 2021 of its new premium travel lifestyle brand, Cathay, 2022 saw the introduction of an elevated membership experience that merged the best of the Marco Polo Club and Asia Miles under one Cathay membership programme that has more than 13 million members.
"We are reconnecting Cathay Pacific with Hong Kong and Hong Kong with the world. To achieve this, we are doing more than simply returning to where we were before the pandemic. We are rebuilding a better Cathay Pacific than before," said the group's chief executive officer Ronald Lam.
Sustainable Aviation Fuel
The group has set a net-zero carbon emissions target by 2050 and pledges that SAF will account for around 10% of its total fuel consumption by 2030.
"In 2022, we launched the Cathay Pacific Corporate Sustainable Aviation Fuel Programme, the first of its kind in Asia, and SAF was uplifted and used at Hong Kong International Airport for the first time as part of the programme, and we will continue to make major strides towards our sustainable development goals."
In line with key performance indicators (KPI) related to climate change, Cathay Pacific secured its first sustainability-linked aircraft financing in 2022 for a new Airbus A321neo aircraft.
"As global travel resumes and Cathay Pacific and the Hong Kong international aviation hub rebuild, we are eager
to welcome visitors to our home city… The past few years have been challenging, but we are taking forward lessons to be the Cathay Pacific for the future," Lam concluded.