PATTAYA, Thailand, 13 March 2023: The annual Fitz Club Tennis Tournament returned to the resort town's sporting calendar on 10 to 12 March at the Royal Cliff Hotel Group tennis complex.
Now in its 15th year, the tournament spotlighted the category 35+ Men Singles for tennis players of all skill levels. Twenty players joined the leaderboard as the Fitz Club Tennis Tournament unfolded at the Royal Cliff. Its success is credited to the round-robin format that ensures competitors are guaranteed to play several matches in one of the best Tennis clubs in Pattaya, Thailand.
Event sponsors comprised AssetWise, Tecnifibre, Home Mart, VC Fabric, Supply Gallery, Carabao Group, Yonex, Daikin and Jae Ying Seafood.
Now in its 15th year, the Fitz Club Tennis Tournament promotes fitness, sports, and recreation, especially for senior players.
Royal Cliff aims to build a tennis and sports community in Pattaya, allowing more senior players to stay active, improve their game, and get socially connected. It continually makes a positive difference in the lives of athletes who develop a lifetime appreciation for the sport. Moreover, Royal Cliff supports Pattaya's goal to become the best Asia destination for family and sports.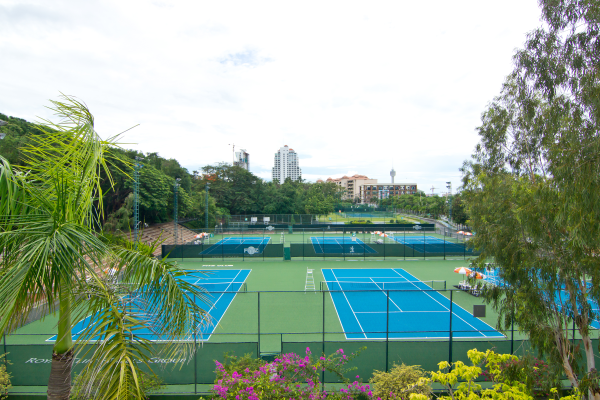 With three days of blockbuster tennis during the weekend, the Fitz Club Tennis Tournament was once more heralded as one of Pattaya's most highly anticipated sports events on the calendar. Visit https://www.royalcliff.com/tennis-tournament.php.
Top ATP players, including Mikhail Youzhny, Denis Istomin and Nikolay Davydenko have used the Fitz Club – Racquets, Health & Fitness for tennis camps. The courts are of the same standard as the Australian Open, so top players can choose Fitz Club to acclimatise and prepare for the big grand slam tournament.
Renowned as the leading luxury sports centre in Thailand's Eastern Seaboard region, it is fully equipped with state-of-the-art facilities, including cardio machines, seven floodlit tennis courts, two air-conditioned squash courts, a swimming pool kids' waterslides, table tennis and sauna & steam rooms.
About the sponsors
ASSETWISE
AssetWise aims to develop both vertical and horizontal projects on high-potential locations under the "We Build Happiness" concept. Currently, the company has completed the development of 44 condominium and housing estate projects under its brands that are created to bring happiness appropriate to all lifestyles, including KAVE, ATMOZ, MODIZ, ESTA, and THE HONOR brands.
CARABAO GROUP
CARABAO GROUP PUBLIC COMPANY LIMITED is a holding company engaging in manufacturing, marketing, selling and distributing energy drinks and other beverages in a vertically integrated manner, starting from upstream productions of key packaging materials down the chain to bottling and canning of finished products as well as distribution channel management both domestically and internationally.
DAIKIN
SIAM DAIKIN SALES CO LTD is a joint venture between Siam Motors Group and Global Daikin which have been operating in Japan for almost 100 years and distributes Daikin air conditioning and air purifier product solution for residential and commercial throughout Thailand.
TECNIFIBRE
Tecnifibre is a French company, founded in 1979 and run by tennis players, providing equipment (rackets/strings/ balls/ accessories/ bags) for tennis players.

YONEX THAILAND
FAR EAST SPECIALITY CO LTD. Yonex is a world-class sports brand that has specialised in badminton and tennis for over 60 years.
For more information on the Royal Cliff Hotels Group and Fitz Club, please visit www.royalcliff.com and www.facebook.com/fitzclub.