KOTA KINABALU, 16 March 2023: Three years after the pandemic, Chinese and Malaysian divers reunited last week for a dive trip to Mabul island off the southeastern coast of Borneo in Malaysia.
About 60 Chinese and 20 Malaysian divers joined a six-day dive trip at Mabul island. AirAsia flew the China Chinese from Guangzhou to Kota Kinabalu on a route that was reinstated on 2 March.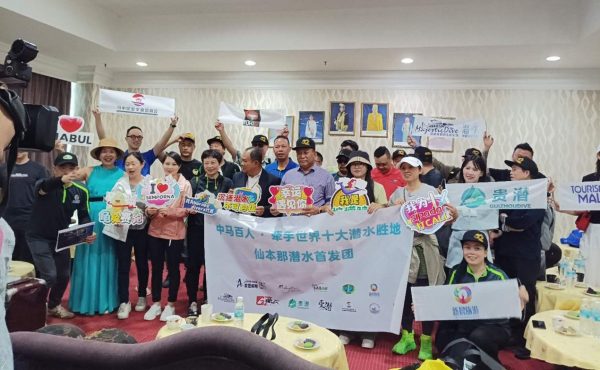 "Now flights from China have resumed, the dive trip illustrates we are rebuilding tourism to Sabah," said Sabah Tourism Culture and Environment Minister Datuk Christina Liew in a statement on Sunday. "This dive group is a testimony of that."
With the reopening of China's outbound tourism market and the resumption of international flights, there will be a surge in diving trips to Semporna and Sabah as a whole," she added.
The event was co-organised by the Enthusiast Scuba Diving Association Guangzhou China, One Diving Services Guangzhou China, Guizhou Dive Diving Club China, Malaysia China Folklore Culture Tourism Association – MCCTA, Guangzhou Asian World Travel China, Master Wei Xuan Student Trip and Majestic Dive Malaysia with the support Sabah Tourism Board and Tourism Malaysia.
Semporna is a world-class diving and tourism hotspot located on the east coast of Sabah. Sipadan Island, the only deep-sea island in Malaysia, is a must-visit destination for diving enthusiasts. It is also well-known as one of the top 10 diving sites in the world.
It takes only 15 minutes to transfer by boat from Sipadan Island to Borneo Diving Resort on Mabul island. It features 113 luxury villas and comprehensive facilities, targeting elite divers and up-market guests.
Visit: www.sabahtourism.com
(Your Stories: Sabah Tourism Board)