HO CHI MINH, 9 February 2023: Tourism Malaysia, through its Ho Chi Minh Office, stepped up efforts to promote Malaysia to Vietnamese travel consumers at the recent Nguyen Hu Flower Street Festival in Ho Chi Minh City, Vietnam.
During the eight-day event, Tourism Malaysia focused on promotions featuring Malaysia's parks and gardens showcasing Malaysia's national flower – Bunga Raya or Hibiscus.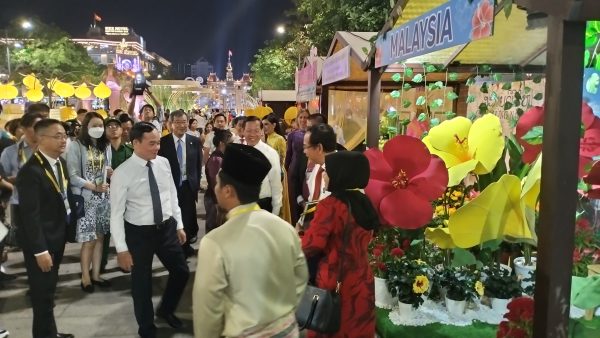 2023 is the 50th anniversary of Malaysia and Vietnam's diplomatic ties. Over the last 20 years, the Nguyen Hue Flower Street event in Ho Chi Minh City has grown into an annual tourism attraction and entertainment event marking the national Tet Holiday (Vietnam's traditional Lunar New Year).
This year, the event welcomed 1.2 million visitors, including international tourists from Indonesia, Laos, Thailand, Canada, Australia, and the United States of America (USA).
"In 2019, before the pandemic, we welcomed 400,346 tourist arrivals from Vietnam, while for 2022, about 173,763 Vietnam tourists visited Malaysia," said Dato' Zainuddin Abdul Wahab, Director General of Tourism Malaysia. " This year, we intend to achieve the arrival target of 15.6 million international tourists with MYR47.6 billion in tourism receipts. We are optimistic that we can attract more than 234,000 tourist arrivals from the Vietnam market."
Regarding connectivity, there are 120 flights per week with more than 21,000 seats on routes between Vietnam to Malaysia supplied by Malaysia Airlines, Vietnam Airlines, VietJet Air, Batik Air (formerly known as Malindo Air) and AirAsia.