BANGKOK, 10 February 2023: Cross Hotels & Resorts, in collaboration with Discova, announced the launch of a new brand 'Kaura', earlier this week in Karangasem, East Bali.
Kaura Bali is described as an "immersive village experience located in the hills of Karangasem, East Bali, developed in harmony with the environment and in direct partnership with Subak Bakung village community."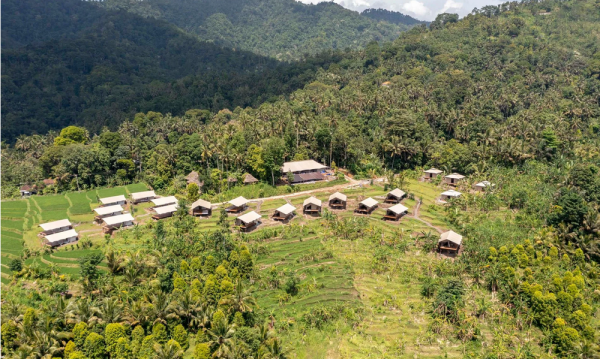 Kaura is the sixth brand under the management of Cross Hotels & Resorts. It will officially begin business operations with the opening of Kaura Bali, a resort and retreat, in April 2023.
Kaura Bali started as a community project supported by Discova with the reparation of a damaged irrigation pipe that threatened the entire community's survival, heavily dependent on rice farming.
Today, Subak Bakung's villagers are transforming tourism with experiences created and guided by the community and connecting adventurous travellers to village culture.
Subak Bakung is located on the sweeping terraces of eastern Bali that cling to the steep and fertile volcanic hillside as a stunning backdrop to the vibrant colour of village life. The Java Sea is just a short cycle ride from the village.
"I'm so proud to be working with Discova and the people of Subak Bakung to bring Kaura to life," said Cross Hotels & Resorts, CEO Harry Thaliwal. "Our goal of self-sustaining retreats, created in partnership with local communities, is at the core of Cross's vision for an evolving industry."
Discova managing director Suyin Lee added: "Kaura is part of our longstanding commitment to sustainable tourism, which directly benefits local communities. The villagers wanted to adopt organic farming, improve farming practices and bring prosperity back to their village. Now they welcome everyone to experience the real Bali and, in doing so, create an alternate source of livelihood."
Cross Hotels & Resorts is an international hotel management company owned by the ASX-listed Flight Centre Travel Group (FCTG).
FCTG is one of the world's largest travel companies, incorporating diverse worldwide distribution in-destination travel experiences such as transport, touring, and hotel management solutions.
Discova is a global destination management specialist operating in 15 markets in Asia and the Americas. It offers tailored B2B in-destination services for tour operators and travel agents.