YOGYAKARTA, 8 February 2023: ASEAN Tourism Forum set a new record last week as attendance slumped to an all-time low since the region's top event was established in 1981.
Hosted in Indonesia's heritage capital of Yogyakarta, the ASEAN Tourism Forum closed on 5 February having attracted just 57 international buyers, 64 sellers and 74 domestic and international media, delivering a total audience of no more than 192 travel delegates excluding the 200 plus government officials who meet for their annual meetings held on the sidelines of the ATF.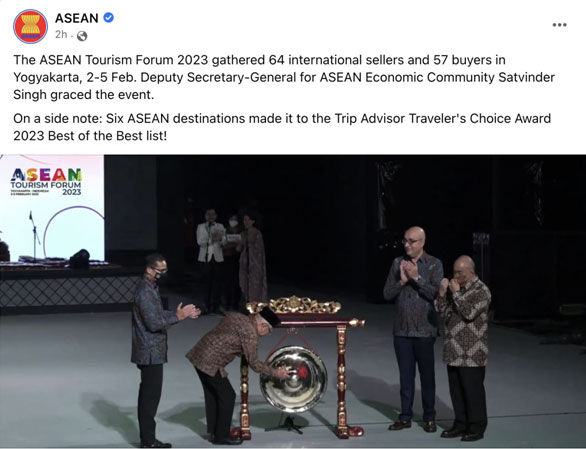 The unprecedented slump in international travel buyers and sellers was first observed by Travel Impact Newswire executive editor and tourism historian Imtiaz Muqbil hours before the Official ASEAN Facebook account confirmed the tally yesterday evening.
The 26th ASEAN Tourism Forum chairman's statement later confirmed the trade show's top participants were the media delegates invited by the host destination Indonesia.
The show theme, "Journey to Wonderful Destinations", fell far short of expectations for international buyers seeking new travel experiences for their 2023 tours. The paltry turnout of 64 sellers came from 10 member countries that comprise ASEAN (Brunei, Cambodia, Indonesia, Laos, Malaysia, Myanmar, Philippines, Singapore, Thailand and Vietnam). Attendance was far off the pace of any previous ATF going back to 1981 when the inaugural show in Genting Highlands Malaysia was officially opened by former Prime Minister Dr Mahathir.
In 2020 the ATF in Brunei delivered 265 sellers, 160 buyers and 109 media. But at the height of its popularity, the ATF 2018 in Chiang Mai, Thailand, delivered a tally of 240 buyers, 650 sellers and over 890 booths.
Indonesia's Minister of Tourism and Creative Economy Sandiaga Salahuddin Uno, had earlier forecasted the ATF 2023 would draw around 250 buyers and 350 sellers.
Next year the ATF will be hosted by Lao PDR from 15 to 19 January, and expectations are a carbon copy of Indonesia's forecast – 350 sellers and 250 buyers. But the last time Laos hosted the ATF in 2013, it managed to attract 459 international buyers and 989 sellers with 495 booths booked.
Asian Trails chairman Luzi Matzig responded to questions from TTRW, saying the ATF was no longer a priority due to financial challenges.
"Asian Trails did not attend ATF as after Covid; we had to tighten our belts and plan to attend only the most important trade shows, such as ITB Berlin and World Travel Market."
Muqbil told TTRW he was undertaking an in-depth report on the ATF to identify the show's direction and the possible long-term outcomes, post Covid pandemic.
Singapore's HPL Hotels & Resorts vice president of sales & marketing Michael Chua who attended the ATF 2023, conceded it was a "smaller ATF, but we got good appointments. There are still many who are worried about travelling due to Covid."
Long haul buyers were much fewer than in past years, but he noted those who did attend were qualified. "We saw more buyers from the regional markets ( Indonesia, Myanmar, India, Singapore, Malaysia, Australia) … these are HPL's key markets, and Indonesia is a big market for us…it was good to meet all our Indonesian partners… Nothing can ever replace a personal face-to-face meeting."
He gave ATF a thumbs up, saying he believed ASEAN governments would continue to host the forum and TRAVEX. "ASEAN destinations are diverse and have much to offer. ATF is the platform for everyone to meet at the start of the year."
ATF's TRAVEX trade show component was held in the Jogja Expo Centre, while Yogyakarta Regional Government hosted the ASEAN Tourism Forum's grand opening 'royal dinner' at the Yogyakarta Palace.
Yogyakarta was selected as the location for the ATF 2023 because it is one of the "super-priority destinations" and received more special requests from the ASEAN members.
For the full chairman's statement 26th Meeting of the ASEAN Tourism Ministers, 4 Feb 2023 check the following link
https://asean.org/wp-content/uploads/2023/02/M-ATM-26-Doc-17-Chair-Statement-26th-M-ATM-Adopted.pdf
Reference to the ATF attendance in the chairman's report