DUBAI, UAE, 1 February 2023: Emirates has completed its first milestone demonstration flight on a Boeing 777-300ER, powering one of its engines with 100% Sustainable Aviation Fuel (SAF).
The flight took off from Dubai International Airport (DXB) and was commanded by Captain Fali Vajifdar and Captain Khalid Nasser Akram, flying for more than one hour over the Dubai coastline.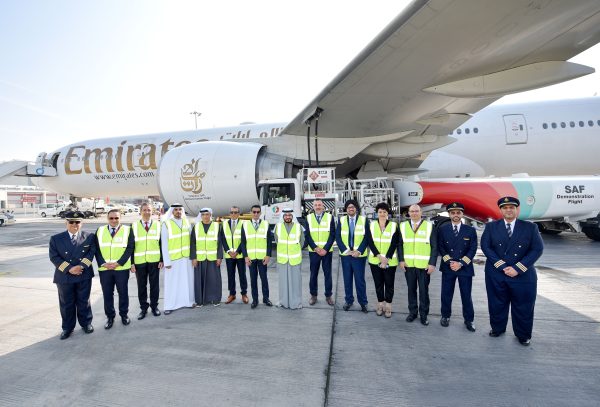 The demonstration flight powered by SAF holds particular significance as the UAE declares 2023 the 'Year of Sustainability'. The year will showcase the UAE's commitment to seeking innovative solutions to challenges such as energy, climate change and other sustainability-related issues. The flight supports collective industry efforts to enable a future of 100% SAF flying and help advance the UAE's sustainability objectives.
Emirates' demonstration flight, the first in the Middle East and North Africa to be powered by 100% SAF, supports broader efforts to reduce lifecycle CO2 emissions as the industry looks to scale up its use of SAF. The flights will also help to refine the playbook for future SAF demonstrations and support future certification where 100% drop-in SAF fuel is approved for aircraft. Currently, SAF is approved for use in all aircraft but only in blends of up to 50% with conventional jet fuel.
Emirates worked alongside partners GE Aerospace, Boeing, Honeywell, Neste and Virent to procure and develop a blend of SAF that closely replicates the properties of conventional jet fuel. A host of chemical and physical fuel property measurements was carried out at each blend ratio. After multiple lab tests and rigorous trials, they arrived at a blending ratio that mirrored the qualities of jet fuel. Eighteen tonnes of SAF were blended, comprised of HEFA-SPK provided by Neste (hydro-processed esters and fatty acids and synthetic paraffinic kerosene) and HDO-SAK from Virent (hydro deoxygenated synthetic aromatic kerosene). The 100% SAF supplied one GE90 engine, with conventional jet fuel supplying the other engine.
The test flight further demonstrates the compatibility of the specially blended SAF as a safe and reliable fuel source. The promising outcome of this initiative also adds to the body of industry data and research around SAF blends in higher proportions, paving the way for standardisation and future approval of 100% drop-in SAF as a replacement for jet fuel, well above the current 50% blend limit.
Emirates Airline chief operating officer Adel Al Redha said: "This flight is a milestone moment for Emirates and a positive step for our industry as we work collectively to address one of our biggest challenges – reducing our carbon footprint. It has been a long journey to see this demonstration 100% SAF flight finally take off. Emirates is the first passenger airline in the world to operate a Boeing 777 powering a GE engine with 100% SAF. Such initiatives are critical contributors to industry knowledge on SAF and provide data to demonstrate the use of higher blends of SAF for future regulatory approvals. We hope that landmark demonstration flights like this one will help open the door to scale up the SAF supply chain and make it more available and accessible across geographies and, most importantly, affordable for broader industry adoption in the future."
Emirates' first flight powered by SAF blended with jet fuel was in 2017, operating from Chicago O'Hare airport on a Boeing 777. It received its first SAF-powered A380 delivery in 2020 and also uplifted 32 tonnes of SAF for its flights from Stockholm that same year.
For more information, visit www.emirates.com.
(Your Stories: Emirates)